Intraday Market Thoughts
Euro Down After Attacks, Japan Back in Recession
Stocks and the euro are lower as markets respond to the tragic events in Paris. The yen is the top performer while the euro opened 75 pips lower. The first reading on Japanese GDP showed yet-another recession. Each of the Premium shorts in DAX-30 and FTSE-100 is +300 points in the money and in progress.
Click To Enlarge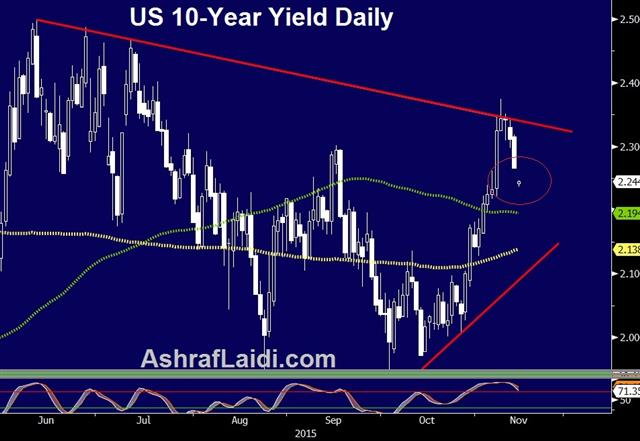 French President promised a 'ruthless' response to the attacks in Paris. That's boosted traditional safe havens and weighed on the euro at the open. The yen is the classic safe harbor and it's leading early along with Treasuries and gold.
S&P 500 futures are 14 points lower after a 23 point decline on Friday. Ashraf noted on Friday that the weekly decline was the worst since the Chinese devaluation. That decline occurred four weeks prior to the Sept FOMC. Last week's is four weeks prior to the Dec FOMC.
There is no sign the Fed is planning to back away from hikes and the Paris attacks won't be a factor. The Fed's Rosengren spoke to the FT on the weekend and he focused on the pace of hikes rather than liftoff. That's similar to other doves who appear more to have accepted a Dec hike and are now staking out positions on how gradual to hike afterwards.
In terms repercussions from France, there will likely be a long-term escalation in airstrikes in the Middle East and that raises risk for oil. In the shorter term it's difficult to see how this meaningfully changes the trajectory of Europe's economy. For now the fear trade has taken hold but it's likely to fade.
The economic news in early Asia-Pacific trade is focused on Japan where the economy contracted for the second consecutive quarter. Q3 GDP contracted 0.8% compared to 0.2% expected. The miss isn't nearly as bad as it appears because Q2 was revised to -0.7% from -1.2% but it's still a miss.
The BOJ pushed out easing expectations after the latest meeting but if the economy continues to struggle, more QE is inevitable.
Weekly CFTC data is delayed until Monday because of last week's US holiday.
Act
Exp
Prev
GMT
GDP (Q3) (q/q) [P]
-0.2%
0.0%
-0.3%
Nov 15 23:50
GDP Deflator (Q3) (y/y) [P]
2.0%
1.5%
Nov 15 23:50
GDP Annualized (Q3) [P]
-0.8%
-0.2%
-1.2%
Nov 15 23:50
Latest IMTs