Intraday Market Thoughts
EURUSD: Battle or Repositioning?
The euro rebounded from yet-another test of the 2015 lows on Monday, we look at what's next. The pound was the top performer while the US dollar lagged. Australian house price data and Chinese industrial production are due later. The 2nd CAD trade in the Premium Insights has been filled and in progress. The EURUSD trade remains in progress.
Click To Enlarge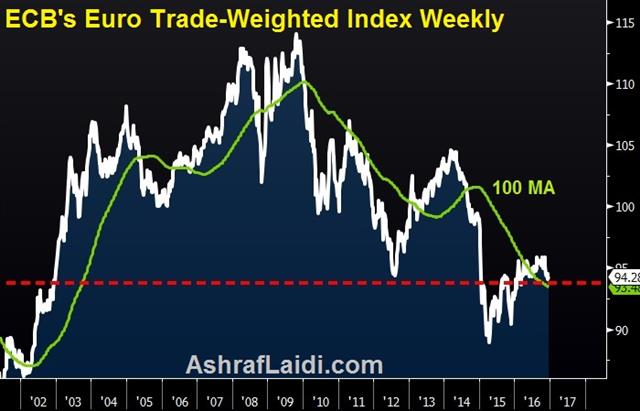 EUR/USD gained nearly a cent to start the week but it only began to unwind a nearly 3 cent drop on Thursday/Friday. An epic technical battle is under way (similar to gold) as the bears press to break the 2015 double bottom. That stretches as low as 1.0462 and will be the critical level through the Fed and in the remainder of the month.
As the battle continues, expect more and more stops to build in the 1.0500/1.0450 zone. Technically, a break below could easily open the way to parity for the first time since 2002 or even the all-time lows at 0.8200.
A trade to the upside would be more challenging to spot. In the short term, a rise above 1.0715 would clear the way for re-test of last week's high but it would take a rally to 1.0900 to spark any real momentum and with year-end fast approaching, the potential for false signals is rising.
The other big move on Monday was the turnaround in USD/JPY. It touched a fresh cycle high at 116.00 only to reverse to finish lower at 114.90. That's a likely sign of jitters ahead of Wednesday's FOMC meeting. A hike is completely telegraphed and that sets up the risk of a 'sell the fact' trade in USD.
Looking ahead, the focus will shift to Australia at the start of Tuesday trading .The first release is the 0030 GMT quarterly house price index. The consensus is for a 4.6% y/y rise, which is a welcome slowdown but the q/q is forecast at 2.5% in a sign that prices could heat up any time.
The other releases to watch are at 0200 GMT when China reports on industrial production and retail sales. The shit to a consumer economy is well-underway, if the numbers can be believed. IP is forecast to rise 6.1% y/y and retail sales +10.2% y/y.
Act
Exp
Prev
GMT
Industrial Production (y/y)
6.1%
6.1%
Dec 13 2:00
HPI (q/q)
2.6%
2.0%
Dec 13 0:30
Latest IMTs