Intraday Market Thoughts
Fed Hits a Sweet Spot
The Fed plan of attack came into sharper focus after the FOMC Minutes. The pound was the bounce-back best performer while the yen lagged. The Asia-Pacific calendar is light. There are 12 Premium trades in progress-- 7 in FX, 2 in equities, 2 in metals and 1 in energy.
Click To Enlarge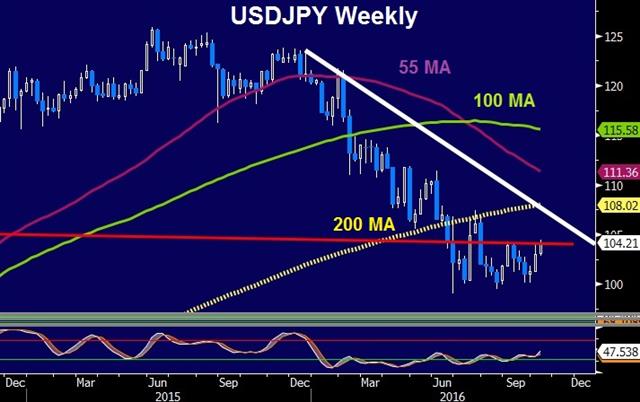 The best measure of Fed communication is the FOMC Minutes. When the market doesn't move after the release it shows that policymakers have already effectively communicated their thinking.
That was largely the case on Wednesday as FX chopped 20 pips on either side of unchanged on the release and then returned to pre-Minutes levels.
For the first time in a long time, there is a small sense of clarity around the collective Fed thinking and how the market interprets it. The Fed is strongly leaning towards a hike soon and will act in December if jobs and markets co-operates. The Fed funds futures market is pricing in about a 67% chance of a December cut and that sounds just about right.
If it were only the Fed on the agenda right now, we might be seeing quiet markets. But the daily barbs from Theresa May and US politics are keeping volatility high.
Confusion reigned on the pound Wednesday after reports suggesting May would allow a Brexit vote in parliament. Cable ripped+ 200 pips from the lows but the reports were later revealed to be a misinterpretation. Rather than a vote, she will allow a full debate in Parliament. But if the result is the same, what's the point?
In any case, it underscore the headline risks around riding a trade that's completely one-sided at the moment. On any good GBP news, it's best to get out of the way asap and look to sell bounces. The pound finished more than a 100 pips from the highs.
Looking ahead, the lone notable indicator on the calendar is at 0430 GMT with Japan's tertiary industry index. The consensus is for a 0.2% but it's unlikely to move markets.
Act
Exp
Prev
GMT
Tertiary Industry Activity (m/m)
-0.2%
0.3%
Oct 13 4:30
Latest IMTs