Intraday Market Thoughts
Fed & Korea Factors Loom Large
Today's decision by the White House to cancel the much anticipated meeting with North Korea's president boosted the yen & gold at the expense of equity indices, while a small hint in the FOMC Minutes yesterday weighed on the US dollar and helped to underscore how vital the Fed outlook is for broader markets. A new Premium trade had been issued ahead of the Fed minutes.
Click To Enlarge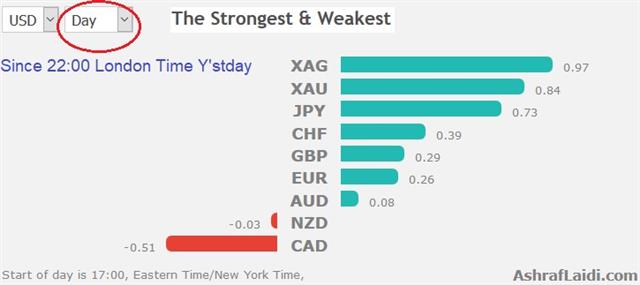 The minutes of the May 2 FOMC meeting sent the US dollar lower largely because a line said a temporary period with inflation above 2% would be consistent with its goal. What that means is that even if inflation runs a bit hot over the summer, the Fed isn't going to rush to hike rates beyond the 2-3 times that are already expected.
In the aftermath, the US dollar slipped broadly and US stock markets recovered. The shift helped to mitigate what had been a rough day for risk assets. EUR & GBP bounced from the worst levels of the day but only after making fresh cycle lows on poor growth numbers in Europe. Cable rallied on better than expected UK retail sales.
In the bigger picture, the dollar moves after the FOMC minutes helps to underscore the tentative state of markets right now. Emerging markets, in particular, are vulnerable to higher Fed rates. If inflation were to heat up beyond what the Fed wanted and rapid hikes came to fruition, money would race out of risky assets and emerging markets in what would be a shock to the system.
The latest woes in the Turkish lira and Argentina peso help to underscore how quickly confidence in the developing world can evaporate. Today, Turkey's central bank took a desperate step with a surprise 300 basis point rate hike.
Naturally, the yen and swiss franc also benefit in any flight to safety and both were strong on Wednesday and today.
Act
Exp
Prev
GMT
Retail Sales (m/m)
1.6%
0.8%
-1.1%
May 24 8:30
Latest IMTs