Intraday Market Thoughts
GBP Crumbles as Brexit Reality Bites
A trickle of pound selling turned into a floor on Friday as cable flirts with 1.30 again. GBP was the worst performer last week, while the yen topped all currencies. China returns from holiday on Monday as a busy week kicks off. A new Premium Video was issued over the weekend to highlight the latest breakouts in emerging market-related instruments and the unfolding impact on global indices and JPY crosses.
Click To Enlarge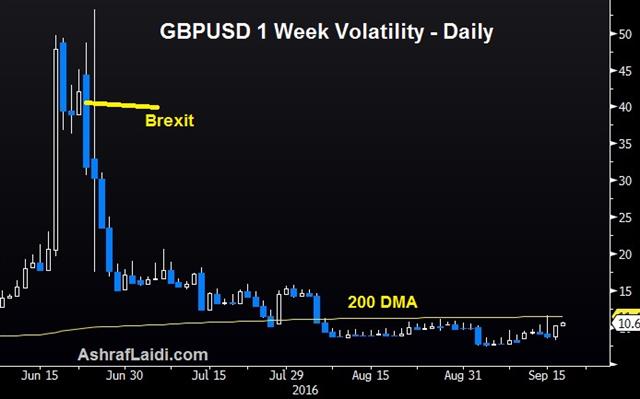 A solid UK retail sales on Thursday was undone by a Bank of England that continues to warn that Brexit pain is coming. That was compounded Friday by reports that Chancellor Hammond has given up on retaining full access to the EU market in Brexit negotiations. In addition, EU President Tusk relayed that Theresa May told him that Article 50 will likely be invoked in Jan or Feb.
None of that is a big surprise but the combination pushed cable 237 pips lower on Friday. It ended very nearly on the lows at 1.3002 and the main drama in early trading will relate to whether or not that level can hold. Or if there is early selling, whether it will be sustained in London.
What complicates the outlook is that the day ahead will be all about positioning. The BOJ and Fed decisions are major risks and flows will be tremendous in the lead-up.
To further complicate things, China returns from an extended holiday on Monday .The economic calendar features Chinese property prices at 0130 GMT. That's generally not a market driver but headline risks are high as Beijing gets back to work. So far, the pressure on the PBOC is minimal and weekend data showed Q3 China business confidence at 51.2 compared to 49.0 in Q2.
Commitments of Traders
Speculative net futures trader positions as of the close on Tuesday. Net short denoted by - long by +.
EUR -81K vs -93K prior JPY +57K vs +44K prior GBP -83K vs -90K prior CHF +1.3K vs +1.4K prior AUD +36K vs +39K prior CAD +17K vs +21K prior NZD +5.1K vs +6.1K prior
Latest IMTs