Intraday Market Thoughts
GBP Jumps, USD's Longest Loss since Jan 2018
The US dollar will close lower for the 4th consecutive week, the longest losing streak since January last year. But the big news of the day is sterling's rally, emerging on the news of a prominent UK Cabinet member demanding Brexit's delay beyond March if next week's vote is rejected. 2 new trades were issued for Premium subscribers on a never-before issued markets.
Click To Enlarge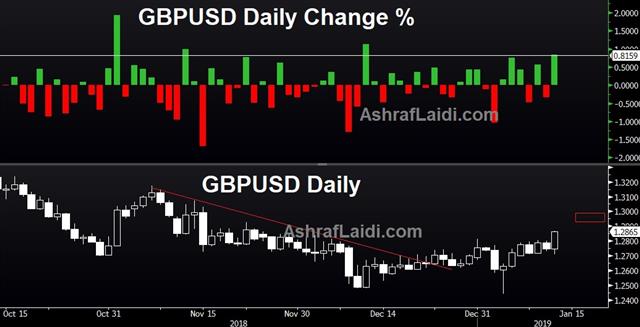 GBP is the strongest currency of the day, breaking above $1.2850 among suggestions from Conservative rebel Dominic Grieve urging PM May to delay Brexit if her EU withdrawal deal is rejected at next week's Parliament vote. Notably, Despite denying such plans by May's spokesman, sterling remains at its session highs.
The US dollar attempted a comeback on Friday as US December CPI came in mostly within expectations, slipping to 1.9% y/y from 2.2% y/y, thus bolstering the Fed's caser to stay on the sidelines. USD's stabilisation of the last 48 hours is hardly sufficient to convince anyone that the slump is over. Another wave of Fed speakers highlighted risks and challenges to the US economy. On Thursday, Powell repeated that the FOMC can be patient in what now looks like it will be a core part of his message.
One notable independent move was Thursday's drop in the Swiss franc. The selling came after the SNB reported that it lost 15 billion francs last year. It's an unusual central bank in that there are shareholders and it pays a dividend. It holds a massive amount of foreign currency reserves with about 20% allocated to equities. They posted a loss and there was speculation that traders are worried about more pain in the event of a recession. There was also talk of intervention. There were no answers but USD/CHF traced out an outside bullish reversal after hitting the lowest since September.
Latest IMTs