Intraday Market Thoughts
GBP up, China GDP Next
Cable jumped after the BOE opted to leave interest rates unchanged and it was top performer on the day while the New Zealand dollar lagged. To see the daily, weekly and monthly top performers, check out our new widget. Chinese GDP is due up next. A truck in French city of Nice ran into crowds, killing over 60 persons and injuring over 100 during the Bastille Day celebrations. ISIS has reportedly claimed responsibility. 5 Premium trades are currently in progress, 2 of which are commodities and 3 in currencies.
Click To Enlarge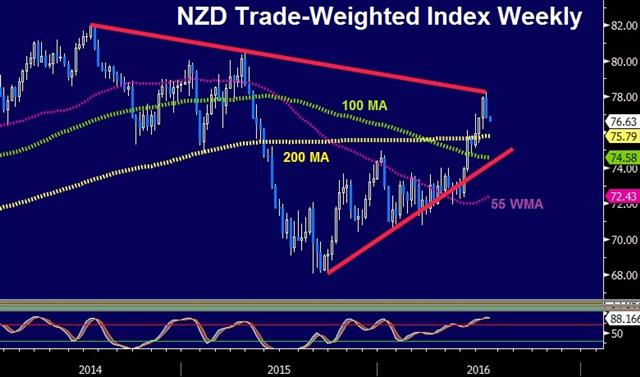 The market was pricing in an 80% chance of a BoE rate cut on Thursday but Carney disappointed. In response, cable jumped 240 pips immediately. Those gains were tempered somewhat by a virtual pre-commitment to easing in August but the pound still gained 2 cents on the day.
Outside of GBP trading, the underlying bond selloff and stock rally continued. The S&P 500 hit a record intraday high for the fourth consecutive day. US 10-year Treasury yields rose a further 6 bps.
The market is having a re-think on the consequences of the Brexit vote. May has been firm that the UK will leave the EU but traders are taking more of a wait-and-see approach before pricing in problems.
What's increasingly clear is that central banks may not be as dovish as markets were anticipating. The Fed funds market pricing in no move until Feb 2019 is aggressive and while Lockhart said a patient approach is prudent, he also said that a near-term hike wasn't out of the question.
At the same time, US initial jobless claims beat estimates at 254K compared to the 265K consensus. The PPI at 0.3% y/y compared to 0.0% expected also showed some minor price momentum.
USD/JPY rose for the third time in four days and is now above to pre-Brexit levels. That's largely a function of what the BOJ might do next but it also reflects the positive sentiment in stocks. One stat that worries us is the VIX. It's at the lowest level in 11 months. Few would argue that risks are lower now than at any time in that period so, instead, that argues that a squeeze has partly fuelled the latest moves.
One of the risks in the background remains China. It's a big day for economic data with industrial production, retail sales and GDP for Q2 all due at 0200 GMT. Growth is expected at 1.6% q/q and 6.6% YTD y/y. Those numbers aren't likely to be trustworthy so any misses in retail sales or industrial production might hold more weight.
Act
Exp
Prev
GMT
Continuing Jobless Claims (AUG 02)
2149K
2117K
Jul 14 12:30
Initial Jobless Claims (AUG 09)
254K
265K
254K
Jul 14 12:30
Latest IMTs