Intraday Market Thoughts
Finally Gold ETFs Flows Do this
It's probably no coincidence that
gold is staging its biggest weekly gain since Nov, and bitcoin posting its fastest jump since February 2021 on the same week that the 2nd largest bank failure in the US found no buyers
– and was left to rot in the courts of bankruptcy. Regardless of whether the FDIC will make all depositors whole, all US
banks will
continue to lose depositors as investors/savers start to discover the higher yields on Money Market funds
. Even the biggest/most profitable US banks will struggle, forcing a faster than expected credit contraction—probably not exactly what Jay Powell had in mind when he wished for that soft landing. So what do you have to learn from the chart below?
Click To Enlarge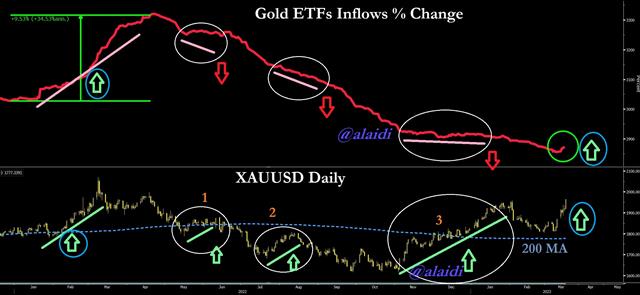 The top panel shows the daily percentage change of inflows in Gold ETFs, with gold in the lower panel. As you can see, inflows are finally ticking higher for the first time since May of last year. Unlike in the previous three phases of rising gold (1, 2 & 3) the latest 8 days of gold gains coincide with an increase in ETF inflows. In each of phases 1, 2 and 3 gold managed to rally despite ongoing slowdown in ETF flows, as it was aided by either USD-centric developments or dovish Fed statements. Today, the combination of the biggest 2-week decline in US-10 year yields since July 2020 + the year's 2nd largest weekly decline in DXY + (wait for it)…the steepest 2-week plunge in KBW (Banking sector index) since 2009 is generating a powerful rally in the yellow metal.
You know when you try to find out the year's best performing commodity and always find it to be some crop, or obscure scrap metal? Well, so far this year, gold is up 7.6%, only behind Iron ore (+11%) and coffee (9%). All energy commodities are in the red for the year, while copper and silver are up 2% and -7% respectively. We're only 17th of March, 5 days away from a Federal Reserve decision, that's likely to produce straightforward 25-bp rate hike and a highly confusing/messy dot-plot. Not to mention, a press conference, where Jay Powell will have to explain how the 50% reversal in quantitative tightening "is not at all QE", as well as explain dots disparity on the terminal rate.
Click To Enlarge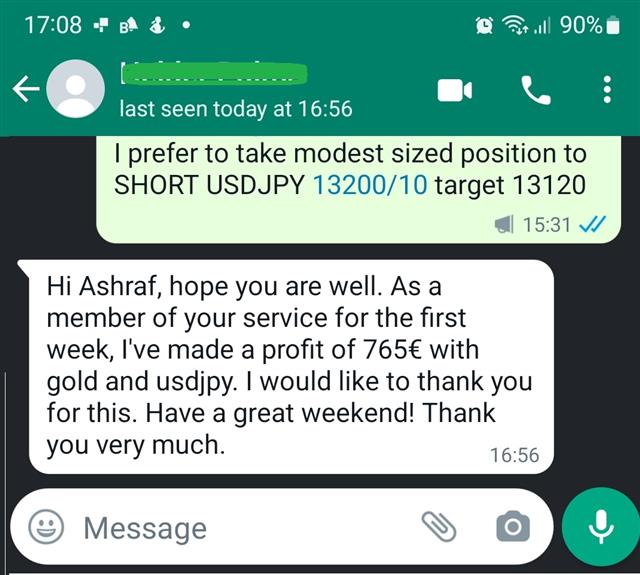 Latest IMTs