Intraday Market Thoughts
Gold & Oil Lead the Way
US indices are bouncing higher ahead of the long weekend (US presidents Holiday on Monday), with gold and oil firming along. Interestingly, energy is outperforming metals, while gold rallies against silver as the mint ratio (Gold/Silver Ratio) reaches a 2-month high. The OIL Premium long deepens further in the green. UK retail sales jumped 4.2% y/y, their biggest annual rise since December 2016, but GBP remains weighed by the Brexit impasse. Yesterday saw the worst US retail sales number in a decade, which weighed on USD, but the market was skeptical. 2 Premium trades were added yesterday to the Premium Insights. Technically speaking, both metals trades remain the strongest as the chart below shows. January Empire manufacturing (NY Fed) is due at at 13:30 GMT, followed by US industrial production for January exp +0.3% is due at 14:15 GMT.
Click To Enlarge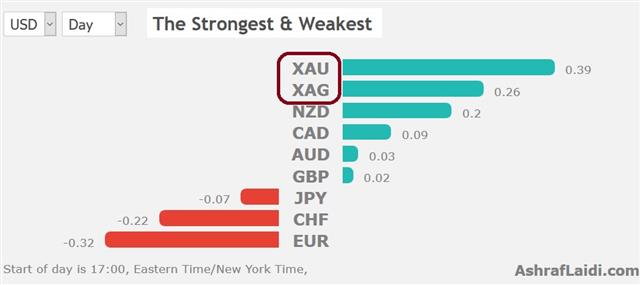 Emergency solution usually not a good sign
The
White House confirmed there won't be another shutdown
with Trump poised to sign the spending bill. At the same time, he will declare an emergency to build his border wall. That's
sure to create political drama but will matter little to markets.
If anything, his fight over the wall may sap his resolve to battle with China where multiple reports said that negotiations are stalled on structural issues – something we warned about yesterday.
US Treasury secr'y Mnuchin continues to sound off his usual optimistic notes, describing talks with with China's Vice Premier Liu He as "productive." But officials familiar with the discussions indicate that China is resisting US demands for further structural economic reform. Investors are becoming increasingly cautious as the round of talks looks set to wrap up without a resolution. SPX has yet to make a decisive close above the 200-DMA.
Yesterday, US retail sales sank 1.2% in December in the biggest decline since 2009. They had been expected to rise 0.1% after a 0.2% climb in November. The weakness was widespread with the control group down 1.7% compared to +0.4% expected. That was the worst since 2000. Initially the US dollar sank but it later recovered against the euro and pound. USD/JPY fell a half-cent and the losses stuck.
What puzzled investors is how sales could have been so weak when other indications were that customers were solid in the month. Redbook sales were strong and corporates have been upbeat on the US consumer. The government shutdown may have hurt and the equity selloff on Christmas Eve may have curbed Boxing Day sales. If so, those are issues that reversed.Retail sales bounced back sharply in January, rising by 1% on the previous month, official figures showed.
Strong UK sales
UK retail sales rose 1% in January after a 0,7% decline in December. Year on year, retail sales rose 4.2%, posting their biggest annual rise since December 2016.
Act
Exp
Prev
GMT
Retail Sales (m/m)
1.0%
0.2%
-0.7%
Feb 15 9:30
Latest IMTs