Intraday Market Thoughts
Gold, Silver Best in 10 years
Gold and silver are both heading for their
best 4 months in 10 years
. Not only both metals are up for the 4th straight month, but both are
showing the highest cumulative gains since 2010.
Less than 24 hrs after we
pointed out the technical breakdown in Gold/Silver ratio here
, silver finally broke above the 21 level, taking gold with it to 1841. The EU finally agreed on finalizing its historic stimulus package at EUR 750 billion, with EUR 390 billion in grants and EUR 360 bn in loans. (More on this below). EURUSD pulled back for a brief sell-the-fact before regaining 1.1490s.
GBPUSD broke above the 200 DMA as well as a 7-month trendline
resistance, while USDX deepened the breakdown below its 200-WMA.
Also watch other crucial 200-DMAs deviations below
.
The Premium Insights' trade in AUDUSD was stopped out, while GBPUSD and EURUSD are currently in a total gain of 370 pips.
We currently have no trades on indices, but our
WhatsApp Broadcast Group members were issued yesterday"quick longs" on DAX30, DOW30 and NASDAQ, all of which produced +500 pips as shown below.
Click To Enlarge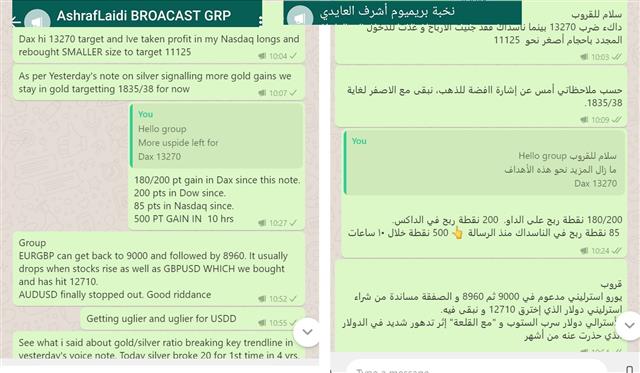 US Crude oil
climbs to 42, finally closing the March 6/9th gap when oil plunged 40% as a result of that fateful Saudi weekend decision to abandon OPEC+ supply cuts. US Crude is less than $1 away from its 200-DMA.
DOW30, currently +3% above its 200-DMA, faces next crucial resistance at 27150/80, with further upside seen if oil closes above $42. SPX, currently +8% above its 200-DMA is far from filling the Feb gap, highlighted by the 3335-3269.
Italy, the biggest gainer of the EU package will get over EUR 200 bn with as much as EUR 80 bn in grants and Greece gets over EUR 30 bn in total. This is further narrowing Italian bond spreads and fortifying EUR crosses.
Latest IMTs