Intraday Market Thoughts
Gradually, then Suddenly
The poor China retail sales numbers and new crackdown on casinos hurt domestic markets but didn't spread on Wednesday. The Canadian dollar was the top performer on higher CPI while the Swiss franc lagged. A
busy US data docket next with:
US retail sales (control group exp 0% from -1.0%); Philly Fed exp 19 from 19.4 and jobless claims exp 322K from 310K.
What are the odds China will steal the Fed's thunder next week?
See more below.
Click To Enlarge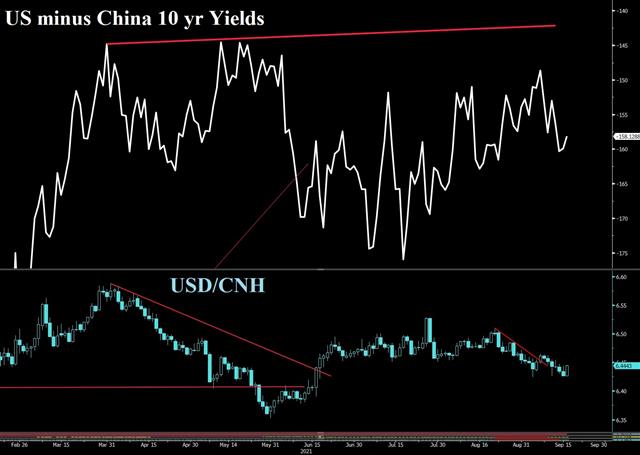 The market's attitude towards China reminds of an Ernest Hemmingway quote about how bankruptcy happened 'gradually, then suddenly'.
It's the same with market reactions to other potential problems. The best recent example is covid, something we wrote about for five weeks before it rocked markets. The global financial crisis unfolded over a year before Lehman Brothers; which 'suddenly' went bankrupt 13 yeas ago yesterday.
Many market observers believe China will stimulate to prevent a deep downturn or cushion the fallout from a looming Evergrande bankruptcy. That's a fair assumption but one that needs to be monitored closely. The next PBOC meeting is Sept 22, about 16 hours before the FOMC. It could very well steal the show. Ashraf tells me if the PBOC eases next Wednesday, it would be another reason for the Fed to supress the hawks--even if a Q4 is inevitable.
In the meantime, markets are tuned into another slowly unfolding crisis. Power and natural gas prices in Europe continue to soar and will now surely crimp spending in the months ahead while also causing some major political headaches. Add that to the reasons to worry about stagflation.
The day ahead features the US retail sales report and that's sure to have consequences in the market. The consensus is for a 0.8% m/m decline. Look to both the 'ex-autos' category and the 'control group', which hare forecast at -0.2% and -0.1%, respectively. The market already knows that auto sales are soft, something we detailed in a note earlier this week.
Latest IMTs