Intraday Market Thoughts
Greece Says 'No', more Talks Ahead
Greeks have rejected the Troika bailout proposal. The euro is down 1.5 cents in early trading and markets are sure to be roiled for days. BOJ's Kuroda speaks later but all the focus will remain on Greece.
The tally is nearly complete and shows 61.5% of Greeks voting 'No' in a solid rejection of another round of austerity and a massive win for PM Tsipras. Polls were much closer in the days ahead of the vote but fear about a Grexit failed to materialize and voters showed they were fed up with failed austerity programs.
The path forward is entirely unclear and European leaders have quickly called summits for Monday and Tuesday. Hopes for some fresh round of negotiation got a lift in Tsipras' victory speech. He said he's convinced his mandate isn't to clash with Europe and that Greece will return to the negotiating table tomorrow.
The important question now is: How do top European leaders respond. Comments from Juncker, Merkel and Lagarde will be critical in the hours ahead. If they are defiant, it may lead to an impasse. But if they concede too much it would set a dangerous precedent.
Analysts have quickly pointed to a heightened possibility of a Grexit, ECB action and the Fed delaying rate hikes but that may be an overreaction. If European leaders concede some ground and some path to Greek debt relief is found, Tsipras may be happy to take it and declare victory. The main risk is if Merkel wants to continue the fight.
In the short-term, however, uncertainty reigns and safe-have n flows into the yen will accelerate as European markets come online. But the dust may settle sooner than expected.
Click To Enlarge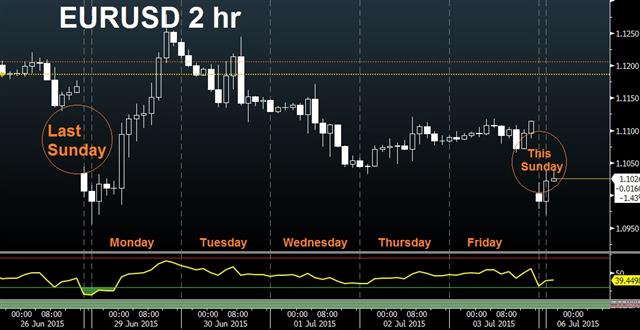 Latest IMTs