Intraday Market Thoughts
Hard Brexit not Coming Home
Sterling is the 2nd best performing currency since the start of Asia Monday trade following the overnight resignation of UK Brexit negotiator David Davis on market expectations that PM is on track of securing a soft Brexit. Prominent Brexit supporter Dominic Raab has been appointed to replace Davis as Bexit secretary.
Click To Enlarge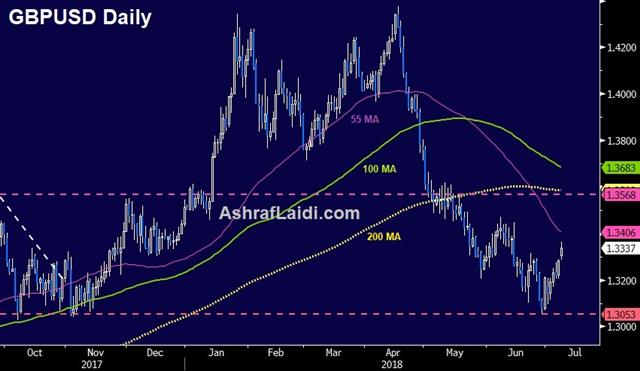 PM May celebrated a victory on Friday as she twisted arms within cabinet to reach a compromise and an agreed position on EU negotiations that included a UK-EU free-trade zone with a common rule book. Essentially it would mean UK rules would be harmonized to the EU with London managing its own bureaucracy.
It was a monumental effort from May to find common ground between hard and soft-Brexit factions but it was a pyrrhic victory as Germany almost immediately gave it the thumbs down. Just hours later (around midnight London time), that was dashed by the surprise resignation of UK Brexit negotiator David Davis along with another cabinet minister.
Sterling impact
Sterling fell immediately following the news of Davis resignation but the currency returned to its session highs later in Asian trade upon further realisation that Davis had wanted a cleaner separation from EU rules, which would also mean a hard Brexit.
Any prospects of PM May keeping close economic ties with the EU -- such as maintaining EU Customs Union would be supportive for GBP.
What next? May is surely demoralized and her rivals may seize the opportunity to launch a coup but at the same time, Boris Johnson and others realize that taking her spot would put them in the same impossible position.
Elsewhere, Friday's US non-farm payrolls report underscored the paradigm of jobs growth but not wage growth. Unemployment rose to 4.0% from 3.8% as more people entered the workforce in a sign there may be more slack. Still 213K jobs compared to 195K will keep the Fed on a gradual hiking pace.
The central bank that will be in tight focus this week is the Bank of Canada. Friday's jobs report was stronger than expected but wages were also softer and unemployment ticked higher. It was enough to solidify a hike but it could be a dovish hike.
Latest IMTs