Intraday Market Thoughts
IMF Doubtful on Greece, Japan GDP Next
The IMF balked as European leaders approved the Greek bailout. The euro was the top performer last week while the kiwi and Aussie lagged. The trading week starts with top-tier economic data with a first look at Japanese Q2 GDP. GBP extended its Friday's gains in early Pacific Monday trade after BoE's Forbes said low headline CPI may hide underlying inflationary pressures and that rates will have to rise before CPI reaches 2.0%. On Friday, Ashraf's Premium Insights added 2 new charts (including the latest implied volatility for GBPUSD) and note to the existing Premium long ahead of this week's key UK CPI & retail sales figures.
Click To Enlarge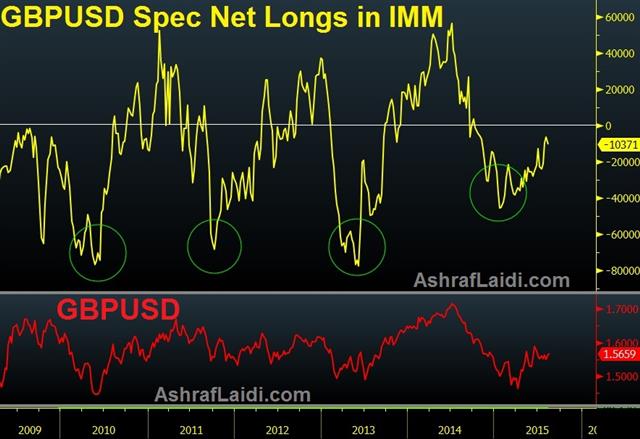 Early-week trading shows few changes after a quiet weekend. China didn't deliver a rate cut or make any special announcements. Instead, the focus was back on Greece where IMF leader Lagarde said Greek debt is unsustainable. European leaders led by Germany believe that reprofiling and maturity extension is enough but the IMF isn't convinced. Merkel said the IMF will come around by October in what's the first chapter in the latest Greek saga. For now, markets aren't tuned into Greece.
The first piece of economic data to start the week is Japanese GDP at 2350 GMT. The consensus is for a 1.8% annualized contraction after a 3.9% expansion in Q1. That would leave the economy hobbling along near 1% growth. Weak consumption and slow exports despite the soft yen are the culprits. A miss may be shrugged off if it's driven by inventories but if private consumption lags below the -0.4% consensus or business investment is soft (exp: 0.0%), the yen could weaken.
Realistically, even a soft quarter wouldn't put pressure on the BOJ to act but if appears as though Q3 will be soft, the case for yet another round of easing improves.
The other event on the calendar is the yuan daily fix at 0115 GMT. USD/CNY was set at 6.3975 on Friday and closed at 6.3912. In all likelihood, the yuan will be lifted for the second consecutive fixing, which will continue to ease nerves.
Commitments of Traders
Speculative net futures trader positions as of the close on Tuesday. Net short denoted by - long by +. EUR -115K vs -113K prior JPY -105K vs -80K prior GBP -10K vs -10K prior AUD -51K vs -50K prior CAD -67K vs -64K prior CHF -7K vs -1.5K prior
The jump in yen shorts is a surprise. There wasn't any particular catalyst for the shift but it helps to explain why USD/JPY hit a two month high Wednesday. One line of thinking is that PBOC devaluation will be followed by similar actions from Asian central banks, including the BOJ.
Act
Exp
Prev
GMT
GDP Annualized (Q2)
-1.9%
3.9%
Aug 16 23:50
GDP (Q2) (q/q)
-0.5%
1.0%
Aug 16 23:50
GDP Deflator (Q2) (y/y)
3.4%
Aug 16 23:50
Latest IMTs