Intraday Market Thoughts
Inflation Secular Stagnation
Friday's weak US CPI was a powerful reminder that central bankers have been wrong about inflation for a decade, and not just in the US. The pound was the top performer last week while the Canadian dollar lagged. CFTC positioning showed more specs selling the yen. A big week for GBP traders lies ahead. 4 of the 5 existing trades are in the green, including Friday's GBP trade.
Click To Enlarge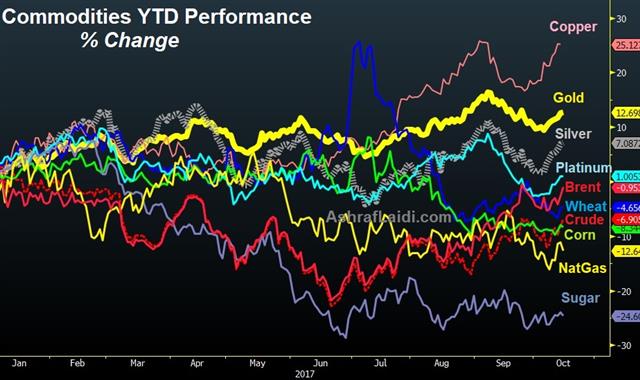 On Friday, US September CPI rose 2.2% y/y compared to 2.3% expected, stripping out food and energy left prices up 1.7% compared to the 1.8% consensus. It was one of many inflation misses this year, expecially compounded by real average weekly earnings rising a paltry 0.6% compared to 1.0% expected.
IMF leaders were glowing last week about upbeat potential for global growth and central bankers everywhere believe it's only a matter of time until prices rise. If they don't, it will mean a complete re-think of how central banks operate.
The case against inflation is what many emerging markets are experiencing now. inflation is low virtually everywhere. Few emerging markets are generating runaway inflation.
China's economy continues to grow at a nearly 7% pace annually, but inflation is just 1.8% and has been below 3% for four years. Rare pockets of inflation like Russia have been due to currency shocks and have flattened shortly afterwards.
Looking ahead, the Party Congress in China is the main event in the week ahead, starting Wednesday. In an early hint of what people will be talking about, PBOC Gov Zhou warned that Chinese companies have taken on too much debt.
CFTC Commitments of Traders
Speculative net futures trader positions as of the close on Tuesday. Net short denoted by - long by +.
EUR +91K vs +91K prior GBP +15K vs +20K prior JPY -101K vs -85K prior CHF –4.3K vs -3.2K prior CAD +76K vs +75K prior AUD +69K vs 72K prior NZD +6K vs +8K prior
The pound longs who hung in there after the beating over the past few weeks were rewarded with a big bounce last week. Overall the moves aren't large but if US 10-year yields can break above 2.40%, then expect an extreme short. A big week for GBP traders lies ahead. Further analysis on UK data and events follows after this IMT.
Act
Exp
Prev
GMT
CPI (y/y)
3.0%
2.9%
Oct 17 8:30
CPI (q/q)
0.4%
0.0%
Oct 16 21:45
Consumer Prce Index (y/y)
1.6%
1.6%
1.8%
Oct 16 1:30
Latest IMTs