Intraday Market Thoughts
Inflation & USD Valuation
The US dollar is the laggard so far in 2017 but considering how much the US economy and Congress have underperformed, it's held up well. If US growth or inflation begin to turn, the dollar quickly bounce back. We will get an important clue in today's CPI report (exp 1.7% y/y from 1.9%), while core CPI exp 1.7% from 1.7%. June retail sales are expected 0.1% from -0.3% and the control gorup sales exp 0.3% from flat.
Click To Enlarge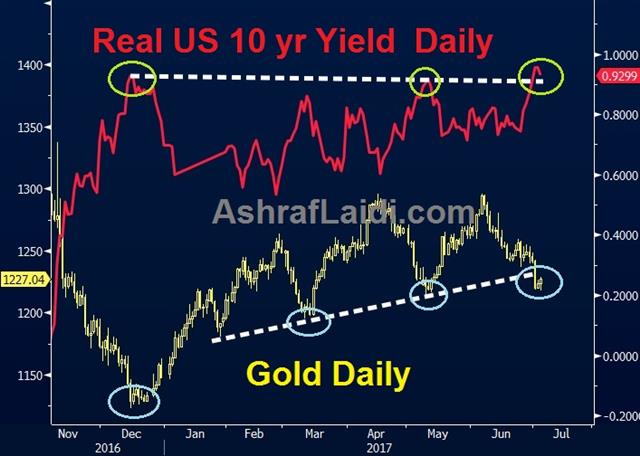 How much can you doubt a central bank? That's the question that US dollar traders have to continually ask themselves. The old adage is 'don't fight the Fed' but that's precisely the trade that's worked so far in 2017. If you had only listened to Yellen, every bump in the road was temporary and every inflation miss was due to one-off factors.
But past underperformance is not a predictor of future failure. The US still has plenty going for it. Sentiment surveys remain high, jobs are increasing and businesses are beginning to invest. At some point – even if it's a only because of noise in the data – there will be better signs on growth and inflation.
When that day comes, could be today's CPI, the US dollar may have considerable room to rebound. Suddenly markets will say 'maybe Yellen was right' and the Fed itself will grow more confident in its predictions and the hawks will begin to push for hikes.
In short, the US economy definitely hasn't been as strong as most expected at the start of 2017, but it's probably not as weak as the past few months of data either. It doesn't take much for the market to fall in love with the US dollar. The problem is: bouts of USD buying will remain short-lived as long as the other central bankers are nearer to withdrawing stimulus.
One thing we're increasingly confident that won't be a tailwind for the dollar is Congress. The latest draft of the Obamacare repeal was released in the Senate Thursday and it quickly became apparent that it wouldn't have the votes to pass. Tax reform or any infrastructure stimulus in the months ahead is a longshot.
Latest IMTs