Intraday Market Thoughts
Jobs Raise Questions for H2
The 138K in May non-farm payrolls is not necessarily bad when it is not viewed against forecast of 183K and the previous 174K figure. It is also a decent figure when accompanied by a 16-year low in the unemployment rate at 4.3%. But when the rest of the report contains prolonged slowdown in earnings growth to 2.5% y/y down from a cycle high of 2.9%, the labour participation rate dipping to 5-month lows of 62.7% and the prior 2 month revisions amount to a net -66K, then serious questions are raised over the warnings of full employment economy.
Click To Enlarge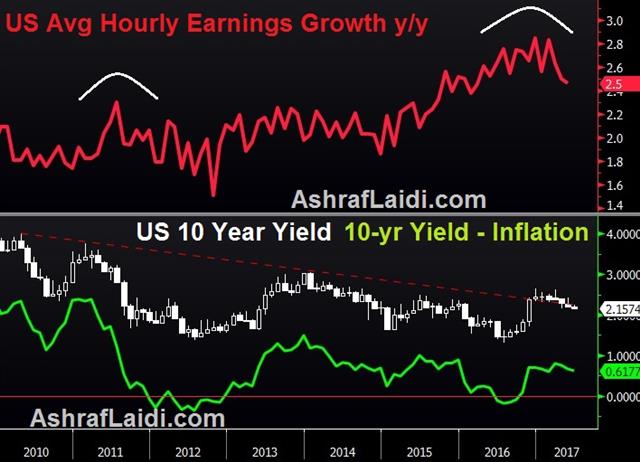 We are told that when the jobless claims and unemployment rate reach decade lows, hiring becomes more challenging. Growing narratives of companies facing difficulty in finding qualified staff are not consistent with the weak pay growth. Could it be that the reported hourly earnings for blue collar staff and/or low skill workers overwhelm the pay figures for talented staff? The Employment Cost Index data shows steady pay growth. But not enough to maintain the case for further Fed hikes in Q3 and Q4. The inability for the 10-year yield to regain 2.35% and real yields to regain 1.0% is becoming hard to miss among Fed watchers and even non-dovish Fed members.
It does not matter whether the probability of June Fed hike fell to 90% from 100%. FX markets are more concerned with the 2nd half of the year. The US dollar index has now completed its 180° turn since Trump's election victory, but more declines could be in store as the ECB mulls reducing stimulus. Our Premium short in the DOW30 was stopped out yesterday, while the EURUSD long was closed for 290-pip gain. Analysis for the next course of action in both follows next week.
Latest IMTs