Intraday Market Thoughts
Payrolls, Earnings & 8 Speakers
US payrolls and earnings (wages) figures are due today, but also watch the chorus of 8 speakers from the Fed (more below) and the extent to which they may differ slightly from Powell's take on rate cuts in Wednesday's press conference. A jump in US factory orders on Thursday clouds the picture for the sector just after the ISM survey stumbled to a two-year low. US payrolls are due at 13:30 BST/London and US services ISM is due at 15:00 BSt/London. A Premium Insight trade was issued yesterday.
Click To Enlarge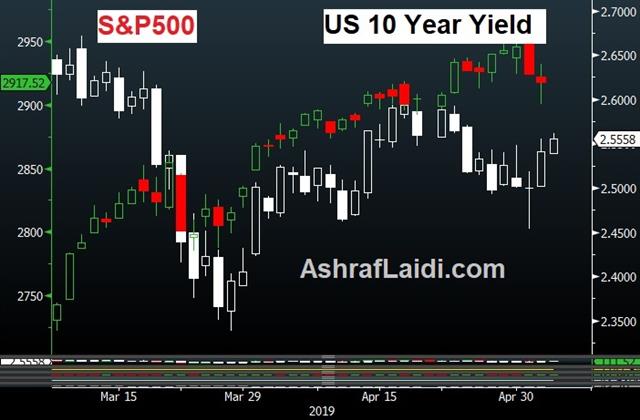 Yesterday, US factory orders rose 1.9% in March compared to 1.5% while the ex-transport measure was up 0.8% versus the +0.3% consensus. In addition, revisions and core durable goods orders were also higher.
The report paints a solid picture for manufacturing but it strongly contrasts with this week's manuf ISM report, which unexpectedly sank to the lowest since November 2016. Both have forward-looking elements but the mixed picture adds to confusion about the US and global economic direction.
The report helped to keep a bid under the US dollar but overall shifts were less than 25 pips across the board.
One notable move was in oil, which fell 4% to drop Brent briefly back below $70. The trade is tense at the moment with Iran oil sanctions going into effect Friday and extreme uncertainty around Venezuela and Libya. US inventories have swelled but the end of April is typically the annual peak.
Next up is the April non-farm payrolls report at 1230 GMT. The consensus is for a 190K reading, just below the 196K print in March. Watch out for a boost from goverment workers as US census hires ahead of the 2020 count. The ADP number earlier in the week was 275K so there probably an upward bias priced into the market. Avg Earnings are exp 3.3% y/y from 3.2% y/y and on a month/to/month basis up 0.3% from 0.1%. Also watch the services ISM, exp 57 from 56.1.
Other Fed Speakers' Take
Today is the first opportunity for other Fed members to voice their opinion on the outlook for rate cuts, which Powell shot down on Wednesday. These include Chicago Fed's Evans at 15:15 BST, Fed Vice Chair Clarida at 16:30, NY Fed's Williams at 18:45, Fed gov Bowman at 20:00, St Louis Fed's Bullard, Celeveland Fed's Mester, San Francisco Fed's Daly and Dallas Fed's Kaplan.
There isn't a strong focus on this particular report on either jobs growth or inflation but the risks may be to the upside for the US dollar. The Fed pulled back the odds of a rate cut on Wednesday and those will come down further if jobs growth is particularly strong or wage indications rise.
Act
Exp
Prev
GMT
FOMC's Evans Speaks
May 03 14:15
FOMC's Clarida Speaks
May 03 15:30
FOMC's Williams Speaks
May 03 17:45
FOMC's Bowman Speaks
May 03 19:00
Factory Orders (m/m)
1.9%
1.0%
-0.3%
May 02 14:00
Latest IMTs