Intraday Market Thoughts
Powell Possibilities
The week-long build up to Powell's Jackson Hole speech will come to an end at 1400 GMT. There was some trepidation in risk assets on Thursday ahead of the speech as the market gets laser focused on taper talk. We break down what to watch for. All major currencies have gained back ground vs USD with the exception of JPY. Keep an eye for the
release of US core PCE price index
in less 30 mins from now. Exp 3.5% from 3.6%.
Click To Enlarge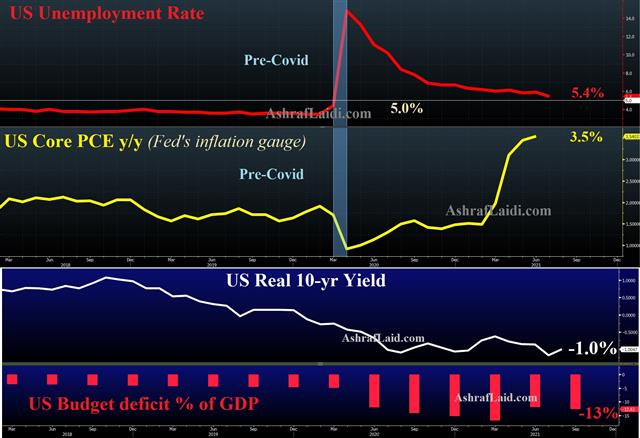 One thing is certian: Powell's address will not be a game-changer. This speech is wildly overhyped because nothing else is happening and because the market has aggrandized the Bernanke-era taper tantrum.
None of the underlying fundamentals of the market are going to change on Friday no matter what Powell says so there's a good argument to fade any big move.
That said, here is what to watch out for.
1) Acknowledging delta will slow the recovery
At the July 28 FOMC press conference, Powell brushed aside delta, saying it wasn't likely to affect the recovery. By simply acknowledging that it will be a drag on Q3 (some banks have cut Q3 GDP estimates by 4 percentage points), it's a dovish shift.
2) The caveat could be that lost growth will materialize later
Delta may simply push the Q3 recovery trade back by a quarter. On its own, that wouldn't worry the Fed. If Powell strongly emphasizes that line of thinking, then it will be seen as a hawkish speech. The caveat to the caveat is that if he points out that delta and other variants add uncertainty, then it may balance out.
3) Inflation and bottlenecks
The message at the July 28 FOMC and since then has been that bottlenecks and transitory inflation will be more persistent than previously thought. This theme is no longer at the top of markets' minds, but if Powell highlights it again, then it will be another hawkish note. At the same time, his
personal view remains that price pressures are transitory--something he will likely emphasize today
away from the FOMC podium.
Finally, Powell's overall tone will be important. If he converys a message that Fed will support the recovery and is in no rush to tighten policy, then it could outweigh everything else. At the same time, Powell isn't going to tip his hand on the Sept FOMC yet. There's plenty of data to come and he likely intends to take his time sorting through delta, inflation and the jobs picture. All that argues for focusing on continued improvements in the virus situation in most of the world.
Latest IMTs