Intraday Market Thoughts
Raising the Bar to 1 million
Friday's release of the US July NFP and unemployment rate numbers is expected to show the 3rd straight gain in the former and a decline in the latter. But there are
two other crucial considerations you need to keep in mind
. And what would you do if you're
long gold and worried about your position?
See more below. The
WhatsApp Broadcast Group
was given suggestions on how to
hedge any longs in XAUUSD and EURUSD ahead of the report,
using a combination of FX and indices trades.
Click To Enlarge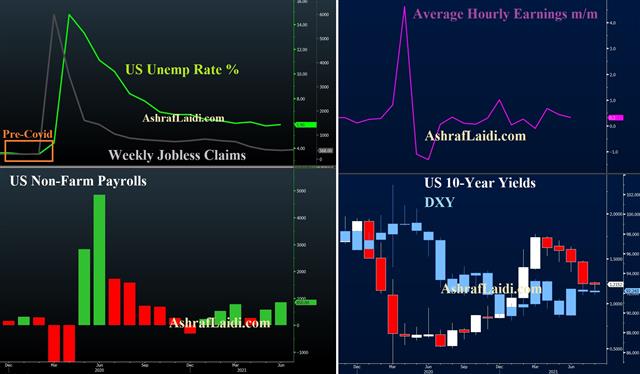 July NFP are expected to show a rise of 870K from 850K in June, while the jobless rate is seen falling to 5.7% from 5.9%. If realized, both outcomes could be USD-positive and gold-negative… or so we may think. But comments from Fed governor Waller indicating that +1 million reading in Friday's release of July NFP and over 1 million in the August NFP, imply that about 4/5 of the lost jobs would have been restored. Whether that is accurate or not is not as important the possibility that Waller may have raised the bar for the upcoming NFP. Said differently, we're unlikely to see any durable USD strength, or prolonged selloff in treasuries in the event of 900K-980K figure. Unless the unemployment rate drops below to 5.7% without any declines in the labour participation rate, there will remain doubts.
The above charts show the the unemployment rate will have to drop from 5.9% to 4.0% and stay at or below it for a convincing period of time in order for the labour market to regain its pre-pandemic footing.
Let's also not forget about average hourly earnings seen steady at 0.3% m/m. Do not watch the y/y figure due to base effect distortions. Any figure below 0.4% or 0.5 would suggest inflation pressures have not yet made their way into wages.
The above presents a high a bar for rocking the status quo in USD and rates. But even if the 1.0 million figure shows up on Friday, traders will require a repeat at the September release in order for taper to start in Q4.
Our Whatsapp Broadcast Group had been long gold, NZDUSD and EURUSD among other positions. So what would you do to hedge your XAUUSD exposure ahead or after the jobs report? A set of suggested trades was given to out members this evening. Good trading.
Latest IMTs