Intraday Market Thoughts
Reflation Flop
A rout in commodities threatens to derail the reflation theme that dominated early 2017 trading .The euro was the top performer Thursday while the Australian dollar lagged. A number of charts broke out. As we near Sunday's final round in the French Elections, the existing EUR trade shall remain open ahead, alongside another EUR trade to be opened on Friday after the US jobs report.
Click To Enlarge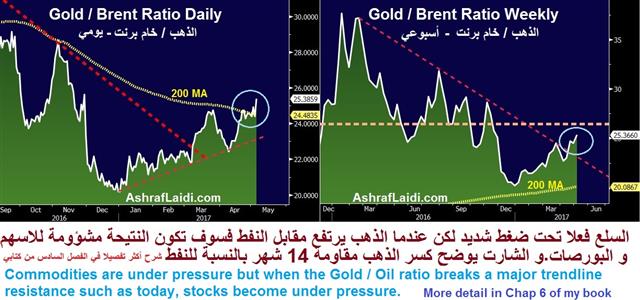 Oil and iron ore were hardest hit in a broad commodity rout on Thursday. Crude finished down nearly 5% and Dalian exchange ore was halted limit down after a 7.3% drop. It didn't stop there with wheat, copper and gold among many raw materials that were hit hard.
The Australian dollar fell to the lowest since January 10 and USD/CAD hit a 14-month high. For USD/CAD, it was the 10th consecutive day of gains.
Aside from terms of trade from exporters, the drop in commodities threatens to undermine the idea that 2017 is the return to the old normal. Oil is back to where it was before the OPEC cut despite the strongest signals yet that an extension is coming. The weakness will be a drag on fuel costs and inflation.
A divide in central banking that doesn't get much attention could be characterized as the Fed-bloc against the ECB-bloc. The Fed believes that inflation early this year was due to economic tightness and that it's sustainable, if not accelerating. The ECB believes it's temporary because of baseline effects from the early-2016 commodity price crunch.
The debate will take time to settle but either way the falls in commodity prices will sap the urgency from the hawks. In the meantime, the US dollar has the most to lose. By embracing reflation, the Fed (and the US dollar) have the most to lose if it fails.
Economic news on Thursday included a disappointing factory orders report but better revisions to durable goods orders and shipments. It also included a narrower US trade deficit, low jobless claims and House Republicans narrowly voting for healthcare reform in what is the first real step towards repealing and replacing Obamacare.
The big story in markets was on the charts. EUR/USD broke the April high and is now testing 1.1000. Oil broke the March low and crashed below. Gold hit the lowest since March 20. AUD and NZD fell below the recent lows. USD/JPY hit the highest since March 16 before reversing to finish lower. That ended a 5-day winning streak.
Asia-Pacific traders will have a chance to digest it all with a light calendar before US nonfarm payrolls and Canadian employment later. One highlight on the calendar is the quarter RBA statement and that could offer some insight on where they see rates headed next.
Act
Exp
Prev
GMT
Factory Orders (m/m)
0.2%
0.6%
1.2%
May 04 14:00
Eurozone Spanish Unemployment Change
-129.3K
-78.2K
-48.6K
May 04 7:00
Challenger Job Cuts (y/y)
-42.9%
-2.0%
May 04 11:30
Latest IMTs