Intraday Market Thoughts
Repeal-Replace Delayed
When in doubt, delay. Republicans delayed the vote on their first major piece of legislation as Tea Party supporters said it didn't do enough to eliminate Obamacare. The pound was the top performer while the Australian dollar lagged. Last night's Premium is now in progress joining 7 other trades. 2 trades in indices, 2 in commodities and 3 in FX.
Click To Enlarge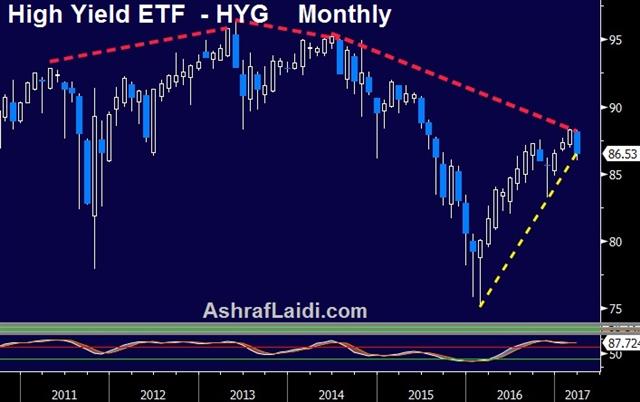 Newspaper editors and TV talking heads love a political story and with markets focused on populism, they were pulled into the latest drama.
The story was framed as a referendum on Trump's agenda and even bond king Jeff Gundlach was sucked into predicting trouble if the vote failed. Yesterday we wrote that if the vote failed or was postponed, there will be selling but Republicans will quickly regroup and move forward. And we wrote that markets will recognize that.
The S&P 500 fell 10 points as questions arose but the market regrouped and finished off the lows, down just 2.5 points. USD/JPY finished slightly lower and Treasury yields ticked higher.
Expect similar themes to play out over the course of the coming four years. Trump is a different kind of politician but Washington is largely unchanged and grandstanding, threats, compromise and brinksmanship will never go away. At times markets will be rattled but the trade will increasingly be to fade the rhetoric and focus on fundamentals.
Looking ahead, the Asia-Pacific schedule is light. The lone number to watch will be the Nikkei Japan PMI for manufacturing. The prior reading was 53.3. Japanese manufacturing has picked up and the numbers will offer clues on whether factory managers believe it will last.
Aside from that, look for headlines on the healthcare bill. Meetings are expected deep into the Washington night and the vote could be delayed again.
Act
Exp
Prev
GMT
Flash Manufacturing PMI
54.2
Mar 24 13:45
Flash PMI Manufacturing
53.3
Mar 24 0:30
Latest IMTs