Intraday Market Thoughts
Retail Letdown, USD Swings
A soft August US retail sales report crushed what was left of hopes for a rate hike next week. The big question now is whether or not the Fed will act before year-end. The Australian dollar was the top performer while the euro lagged. New Zealand consumer confidence is up next.
Click To Enlarge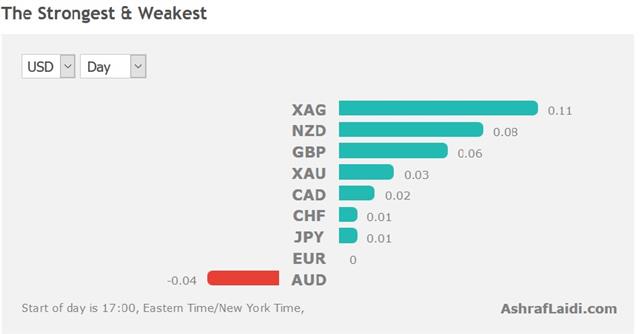 The key control group of the US retail sales report posted - 0.1% in August compared to the +0.4% expected. That was compounded by a one-tick downward revision to the July data. The weakness was broad-based and it initially sent the US dollar the lows of the day. But once again the dollar bounced back. This time it took less than 20 minutes to recover the losses as the market was magnetized to the dollar. However as the day wore on, slow dollar selling resumed.
Part of the reason for the dollar confusion was because a mountain of US economic data was also released Thursday. The Philly Fed was strong at +12.8 vs +1.0 expected while the Empire Fed was a touch soft at -1.99 vs -1.00 expected.
Generally, the tone was on the soft side and that won out later as business inventories, industrial production and PPI were slightly below expectations.
Despite all the news, the magnitude of market moves were small. The Australian dollar continued its reversal following the jobs data and climbed to 0.7515 from 0.7475. USD/CAD was on the defensive after failing to break the July high and reversing on a bounce in crude oil prices. The 1.3253 level will be a key one to watch in the day ahead.
With the Fed focus ebbing, that gives the BOJ room for the spotlight. At the moment, headlines consistently hint that policymakers aren't on the same page. The WSJ was the latest and there is a growing changes that Kuroda may disappoint and send USD/JPY below 100.00.
We will watch for continued leaks in an otherwise quiet Asia-Pacific session. China is on holiday and the lone indicator on the calendar is the 0100 GMT release of September ANZ consumer confidence.
Act
Exp
Prev
GMT
Core Retail Sales (m/m)
-0.1%
0.3%
-0.4%
Sep 15 12:30
Business Inventories (m/m)
0.0%
0.1%
0.2%
Sep 15 14:00
Latest IMTs