Intraday Market Thoughts
Sell in Beijing, Buy in Ankara, Sell after Lima
It's been just over three weeks since China rocked the world with its devaluation announcement, prompting fears of an ominous drop in demand from the world's biggest buyer of commodities and more important trading partner to most of the globe. The Chinese yuan depreciated by nearly 4.0% in two days before gradually gaining back 1.5% from August 12 til today. So when will we see renewed CNY weakness?
Click To Enlarge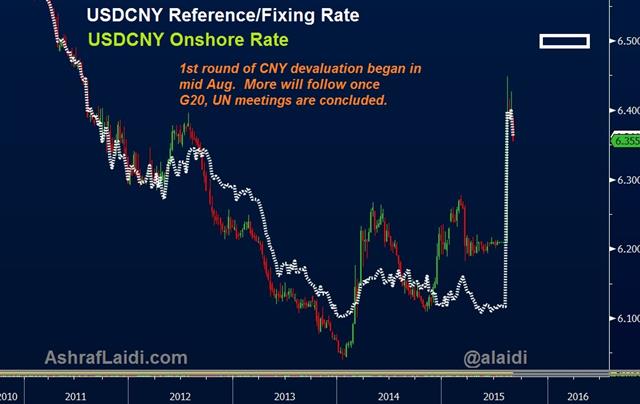 Initial Devaluation
The CNY devaluation was needed as there was no question the currency had been overvalued. The yuan had appreciated more than 10% against the US dollar between summer 2010 and winter 2014, during which China GDP slowed from 10% to 7%, exports fell from a rate of +30% to -8% and credit growth plummeted. The initial devaluation was needed, especially as the currency was pegged to a rising US dollar. But then it stopped.
So why has the People's Bank of China fought off further CNY weakness since mid-August? The main reason is to prevent an escalation of capital outflows from China, especially as the central bank is widely expected to engage in prolonged interest rate cuts, further eroding the yuan's carry trade allure. Beijing was also careful in avoiding beggar-they-neighbour criticism from the world community at a time when the rest of the world is slowing markedly.
Timing is Crucial
The latter point is especially crucial in considering Beijng's halting the yuan's depreciation.
September and October are filled with international meetings and the last thing for Chinese president Xi Jinping to be on the defensive.
Starting
this week, is the G20 meeting in Ankara,
where world leaders will discuss climate, disarmament, immigration and international trade/global economy. Finance ministers and central bank chiefs of these nations will also be present.
At a time when global bourses are suffering their worst decline in four years, the last thing Beijing needs is a scapegoat for this too.
On September 16-20, China's president will meet US president Obama in Washington. The topic of foreign exchange will best be avoided by China.
Finally, on October 8-10, the annual autumn IMF/World Bank Meetings will be held in Lima, Peru, another chance for G20 finance ministers and central bank chiefs to gather. By that time, expect the IMF to have made public another downgrade of global growth as well as a warning against US interest rate liftoff. By Haloween time, the PBOC will remove its "steady-CNY" face mask and a policy of gradual depreciation would return, until 6.50-6.75 yuan/USD is seen reached. Further CNY weakness is unavoidable. The impact on commodities is not yet done. How it will go about it remains to be seen.
Latest IMTs