Intraday Market Thoughts
Services ISM Soar, ADP Disappoints
USD recovered from a disappointing ADP reading to rally across the board when the headline July services ISM hit a 10-year high of 60.3 from June's 56.0. The employment component soared to a 10-year high of 59.6, posting the biggest monthly increase in the history of ISM/NAPM report.

Click To Enlarge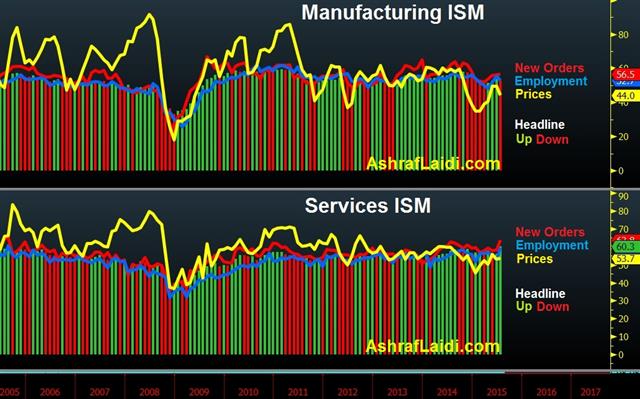 The prices paid component extended further into expansion territory. Rising to 53.7 from 53.0, in contrast with the decline in the manufacturing ISM prices paid index, which deepened into contraction territory at a 4-month low of 44.0, reflecting the collapse in commodities.
2005 was the last year for such a powerful services ISM as well as a US dollar bull market boosted by a tightening Fed.
Earlier today, July ADP slowed to 185K from June's 229K, posting its weakest level in 4 months. Interestingly, the reaction was muted as bond yields pushed higher alongside US stock futures, implying that report may dissuade the Fed against a September rate hike. But the breadth of the improvement in the services ISM, reviving odds of a September hike to 50-50.
Interestingly, the rallying US dollar dragged down oil prices (which were temporarily lifted by another draw in EIA crude oil inventories (-4.4mn), this time the biggest in 6 weeks. As US crude oil hit a new cycle low of $44.88 and Brent hit a 7-month low of $49.02, big energy shares weighed on the major averages.
Ahead of "Super Thursday"
Before we approach the all-important NFP report and those average hourly earnings, traders turn to "Super Thursday", as the decision of the Bank of England, the minutes of the decision and BoE's Quarterly Inflation Report are simultaneously released at Noon BST. GBP reaction will be divided between the minutes and the inflation outlook in the report. We expect the minutes to show a 8-1 vote in favour for rates to remain unchanged, but the identity of the dissenting member will be crucial. As long as there is at least one dissenter, this should help keep GBP supported despite any dovish leanings from Carney. Our
existing Premium trades
include GBPUSD, EURUSD, USDJPY, USDCAD and AUDCAD.
Act
Exp
Prev
GMT
ADP Employment Change (JUL)
185K
215K
237K
Aug 05 12:15
ISM Non-Manufacturing Composite (JUL)
60.3
56.2
56.0
Aug 05 14:00
Employment Change s.a. (JUL)
15.0K
7.3K
Aug 06 1:30
Fulltime employment (JUL)
24.5K
Aug 06 1:30
Part-time employment (JUL)
-17.2K
Aug 06 1:30
Unemployment Rate s.a. (JUL)
6%
6%
Aug 06 1:30
Latest IMTs