Intraday Market Thoughts
Soft Jobs Tee Up Taper Magnitude
Friday's US jobs report probably met Powell's threshold of 'reasonably good' in order to begin the taper, but could slow the pace. The dollar initially fell on the data, but stabilized soon after.
US 10 yr yields shot up 1.59%
.
Canada added nearly as many jobs
as the US and USD/CAD could be breaking down, with help from energy. CADJPY made a wild breakout and could be set for more.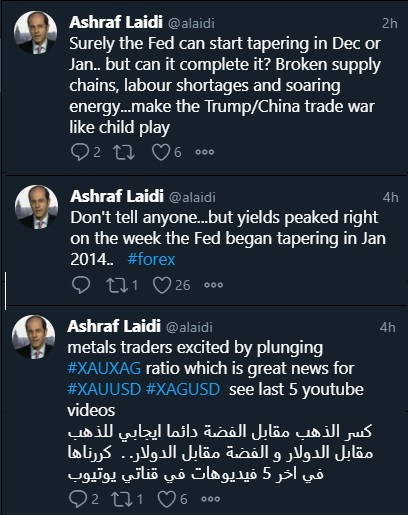 The US added 194K jobs in September, well shy of the 500K expected. That immediately led to a 20-40 pip drop in the US dollar and falling Treasury yields. In about an hour, both moves reversed and a big reason why was positive details in the report. Upward revisions to the two prior reports added 194K jobs and the unemployment rate fell to 4.8% from 5.1%. Wage growth was solid and there was talk about seasonal adjustment errors around educational assistants, weighing heavily on the government category.
One place where the USD didn't recover was against the loonie and that's because Canada added 157K jobs itself in August, including 194K full time. That's as many as in the US in a country one-tenth the size. USD/CAD fell through the September low and 1.2500 on the report. A head-and-shoulders top has formed in the pair targeting 1.20. Given the strength in oil and technical setup, there's plenty to like about the loonie on a number of fronts. CADJPY may be set to hit 90.70.
Note also that China returned from holiday on Friday and the mood around Evergrande appears to have improved. The company is headed for default but there's an increasing sense (hope?) that the sector can be ring fenced and that the rest of the economy can prosper. Shanghai stocks rose 0.7% on Friday.
Latest IMTs