Intraday Market Thoughts
Stimulus Exhaustion & European Woes
Markets moved from US-Stimulus exhaustion to shrugging Boris Johnson's threats to leave the Brexit talks without a deal. Traders turn to end of
Oct-late Nov as the next calendar point for a Brexit possible agreement.
Europe got a double dose of bad news on Thursday as Brexit talks went badly and new virus cases jumped. Today's market flows are more of the same --
further retracing of Wednesday's losses with a potential adding of gains on Monday..before fresh declines next Tuesday (??)
. Higher than expected US retail sales proved a non-event. The US dollar led the way while the kiwi lagged as risk trades stumbled. Look out for the US retail sales report on Friday. Earlier this week, t
he

DAX Premium trade hit

the final target in less than 24 hrs
.
Each of the current 4 Premium trades are currently in the green.
Click To Enlarge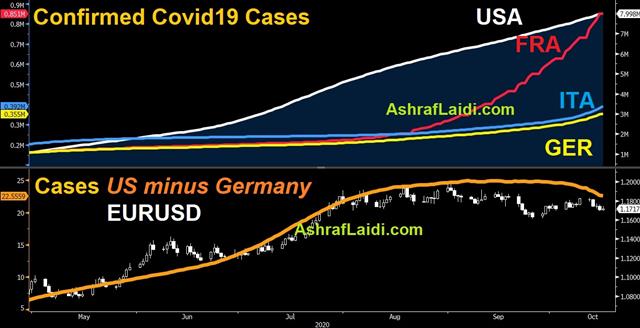 Back to the virus story. A number of countries set new-case records this week including Germany on Thursday with 7313 cases. Granted that comes on many tests and hosptializations remain low but what is frightening governments into lockdowns is the pace of increase. A week earlier there were 4010 cases in Germany. The +80% w/w rise is terrifying and quick increases in the region have already led to partial shutdowns in Spain, France, the Netherlands and elsewhere.
This is all likely to lead to Q4 growth downgrades. The clearest signal Thursday came from the German bund market where yields fell for the fourth day and broke the April low of -0.59% to end a medium-term consolidation pattern.
With that the euro grows increasingly vulnerable, particularly against the Swiss franc and yen.
Latest IMTs