Intraday Market Thoughts
Taylor-Made For USD Strength
A report that Trump 'gushed' about John Taylor as Fed chair gave the US dollar a lift on Monday. We look at the potential implication of appointing the Stanford economist. UK CPI rose 3.0% in September, the highest since April 2012, while core CPI edged remained unchanged at 2.7%. GBP remains under 1.3270 as the rising likelihood of a November rate hike is overshadowed by the threat of a no-deal in Brexit negotiations after German Chancellor Merkel warned UK PM May would have to pay well above the EUR 20 bn proposed earlier if a transition deal were negotiated. A 2nd GBP trade was opened on Monday as part of last Thursday's tactical GBP setup.
Click To Enlarge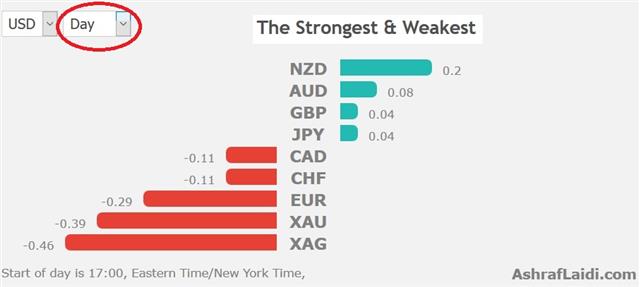 Bloomberg reports that Trump was very impressed by Taylor after a meeting last week while Kevin Warsh's star has faded. A decision is likely to be made in the weeks ahead with Yellen scheduled for an interview on Thursday. Gary Cohn and Jarome Powell are also on the shortlist, with the later seen as a strong candidate.
Taylor is 70 and is familiar with the White House and monetary policy. He was Undersecretary of the Treasury for International Affairs from 2001 to 2005. He's famous for the Taylor Rule, an equation that could serve as a guidepost for monetary policy. It's continually argued in favor of hiking, something Taylor has endorsed.
In March, he estimated the neutral rate at 4%, compared to the 2.25%-2.50% estimate at the current Fed. On rules, he said recently said they should be akin to a strategy, not something to tie central bankers' hands.
He was seen as a long-shot until the report. If Taylor is selected, he would go against Trump's self-proclaimed preference for low rates. Of the remaining candidates, he would be seen as the most-hawkish and most-favorable for the dollar.
Given the reaction to the headlines, it's increasingly clear that this decision will be a big one for the dollar, along with other vacancies at the Fed. On Monday, the dollar climbed a half-cent against the yen, primarily on this report. It was also lifted by positive news from North Korea and the Empire Fed, which rose to the best level since 2014, at +30.2 compared to +20.5 expected.
Act
Exp
Prev
GMT
CPI (y/y)
3.0%
3.0%
2.9%
Oct 17 8:30
Latest IMTs