Intraday Market Thoughts
The Dam Cracks, ECB Up Next
Euro at the highs ahead of the ECB decision, with speculation of a possible surprise announcement to taper asset purchases. The Bank of Canada's decision to taper and hint at an earlier rate hike is a crack in the global central banking consensus. The surprise move was a big boost to the Canadian dollar--biggest percentage daily gain in 11 months.
The ECB is up next.
Announcement
at 12:45 pm London, followed by the
press conference
45 mins later.
Traders should expect lack of unanimity regarding the decision, during and after the press conference.
Click To Enlarge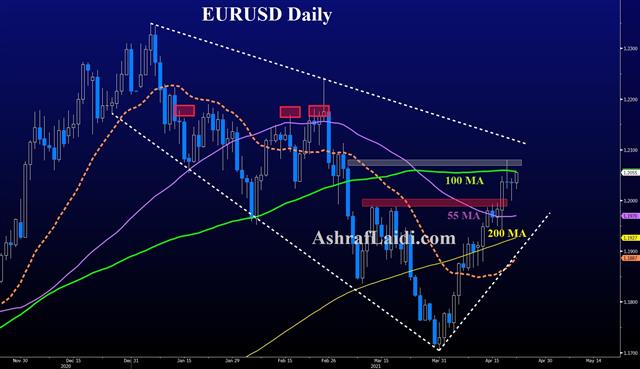 As we warned here, the Bank of Canada dialed back QE to $3B/week from $4B/week and brought forward the timeline for when the output gap closes to 2022, which is another way of saying that's when they plan to hike.
The market was not expecting that and what was a true surprise is that BOC Governor Macklem didn't temper the moves with any anti-CAD jawboning or strong caution. There was nothing like a dovish taper. Instead, the BOC boosted its Canadian GDP forecast to 6.5% this year from 4.0% and increased 2022 as well, while also raising the global growth view.
At one point, USD/CAD had fallen 200 pips from pre-announcement levels. The market got caught leaning the wrong and the pair went from a one-month high to a one-month low in 70 minutes. There was a modest bounce late to put the pair back at 1.25000 but the spot to watch now is the 1.2470-60 support zone for further follow through. The positive risk tone the emerged Wednesday will help but the loonie might need some help from commodity prices.
In the bigger picture, the turn in central banking has arrived. The ECB decision is up next and that might include a hint (or commitment) to its own tapering in June when the latest forecasts are published. Eurozone data has far outpaced estimates over the past two months as the economy shrugged off lockdowns.
In the ECB's case though it will be seen as more of a technical move or unwind of the extra buying announced in early March following the bond tantrum.
The
market will also be watching the Fed, RBA, and BoE
to see who follows Canada. While this is a crack in the dam, it will break when one or two of those follow. When that happens, volatility in FX will dramatically increase.
Latest IMTs