Intraday Market Thoughts
The Pre-Brexit Sag
Cable is down in 7 of the past 8 days as we count down to the Brexit trigger. AUD was the top performer on Tuesday while NZD lagged. Japanese trade and GDP data is due later, followed by Chinese trade balance.
إلى أين ارتداد الدولار؟
Click To Enlarge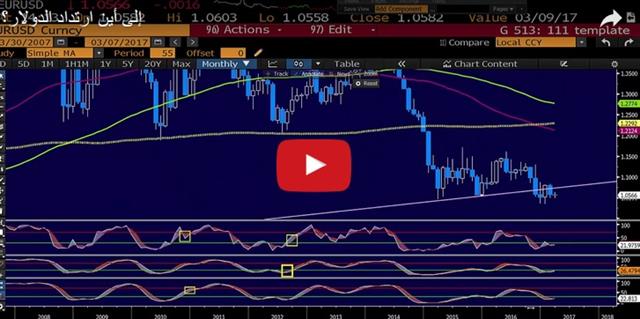 The pound has fallen more than 300 pips in the past week as the market stares down the looming reality of the Article 50 trigger. Parliament and the House of Lords are bickering over some of the final details but once that wraps up an announcement could come without forewarning.
That's what's keeping pound buyers sidelined but like the Yellen confirmation on the rate hike, there is a chance for a buy-the-fact trade but only if the announcement is smooth, well-prepared and well received. The last thing pound bulls want to see is disorganization in the government but May has thus far run a solid ship.
In economic news Tuesday, the US trade balance met expectations at a deficit of $48.5B in January. Trading was calm despite some volatility in commodities. The five-day drop in gold since the start of March has caught our attention but it's largely a reflection of a more-hawkish Fed.
Oil tried the upside again but was beaten back after a +11 million barrel build in supplies in the API report. The IEA also downwardly revised its demand forecast and Saudi Arabia said it was too early too early to say if quotas would be extended.
The focus will shift back to Asia now and China's National People's Congress. A PBOC official there said one goal is for China to steadily grow and promote the yuan globally. We will get some insight into trade at approximately 0200 GMT when trade figures are released. Exports are expected up 12.3% y/y and imports up 20.0%.
The other numbers we will be watching are from Japan where the final Q4 GDP reading is expected at +1.5% q/q annualized, up from 1.0%. That will be released alongside January trade balance and current account balance data.
The Gold Premium trade has finally been filled, joining silver and four other trades.
Act
Exp
Prev
GMT
Final GDP (q/q) [F]
0.3%
0.4%
0.2%
Mar 07 23:50
Latest IMTs