Intraday Market Thoughts
The Question Now
Fed confusion manifests itself in a rush to the exits in crowded trades Thursday. The S&P 500 suffered its worst day since Feb 2014 and the euro led the way as the carry trade unwound. The Asia-Pacific calendar is quiet but PBOC rumors are circulating ahead of the weekend. Ashraf's Premium Insights went long EURUSD on Jul 29 at 1.1020 is now +200 pips in the green, while the EURAUD long of June 17 at 1.4690 is +600 pips in the money. Today, a new USD trade has been issued with the support of 3 charts.
Click To Enlarge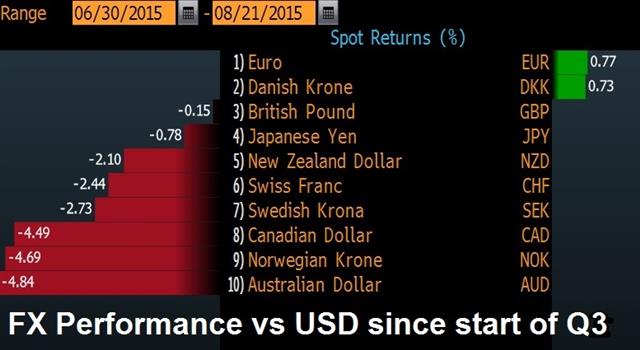 Confusion is often worse for a market than good or bad news. Eventually uncertain market participants square up rather than trying to sort out competing headlines. The Fed is the major question mark but China, the US economy and the global economy are all in flux.
Thursday's price was representative of all the most crowded trades clearing out. Long stocks was hit by a 44- point, 2.1% decline in the S&P 500. Importantly, both the July and March lows were broken.
Short EUR is the most-crowded FX trade as billions of euros were borrowed and invested elsewhere. So it's no surprise that EUR/USD was the best performer in a rally to 1.1240 from as low as 1.1035 yesterday. EUR is the best performing currency out of 11 major currencies since the start of the month and the start of the quarter.
Commodities were also winner as oil rebounded 1% and that gave a boost to commodity FX. Safe havens were in demand, leading to rallies in gold and bonds.
The big question now is: What happens next? The Fed is still almost a month away.
It may yet be too soon for a sustained breakdown in markets although it's rare to get a reversal on a Friday. Economic data in the form of the Philly Fed, existing home sales and initial jobless claims Thursday were solid.
To stabilize, the market just needs a better hint that the Fed will wait before hiking. We look to Lockhart on Monday and Jackson Hole next Friday, discussed by Ashraf on here 3 weeks ago.
At the moment, the most-crowded trade of all is long US dollars but even Thursday's jitters barely shook it (where else do you go?) However, if a Fed hike comes off the table for 2015, the dollar will fall much further.
Act
Exp
Prev
GMT
Existing Home Sales (JUL) (m/m)
5.59M
5.44M
5.48M
Aug 20 14:00
Existing Home Sales Change (JUL) (m/m)
2.0%
-0.6%
3.0%
Aug 20 14:00
Initial Jobless Claims (AUG 14)
277K
272K
273K
Aug 20 12:30
Continuing Jobless Claims (AUG 7)
2.254M
2.265M
2.278M
Aug 20 12:30
Philadelphia Fed Manufacturing Survey (JUL)
8.3
7.0
5.7
Aug 20 14:00
Latest IMTs