Intraday Market Thoughts
Trade Winds Boost Euro ahead of ECB
Trade headlines continue to dominate trading as upbeat comments from Trump and Juncker sent the euro higher. The Canadian dollar was the top performer while the US dollar lagged. The ECB decision is up next on Thursday.
إشارة الدولار/ ين (فيديو للمشتركين فقط)
Trading around the headlines was an adventure Monday but ultimately led to a jump in euro, commodity currencies and risk trades.
Expectations were low for Juncker's trip to Washington and initially fell even lower on a Washington Post report saying Trump had fallen in love with tariffs and wanted to impose them on autos before year end. EUR/USD fell as low as 1.1661 afterwards but began to turn around after initial positive comments before Trump and Juncker met.
As the meeting extended a report said the leaders were close to a deal and that turned out to be accurate as Juncker promised to import more soybeans and LNG with both sides agreeing to work towards zero tariffs and promising not to impose new tariffs so long as negotiations continued.
Juncker doesn't have the power to unilaterally make these deals but we have to assume he's got the backing of EU leaders. In any case, the threat of immediate tariffs is lower.
Separately, CAD and MXN made strong gains on a letter Trump sent to Lopez-Obrador saying he hoped to wrap up NAFTA renegotiations quickly.
Calendar Guidance - How Specific?
Click To Enlarge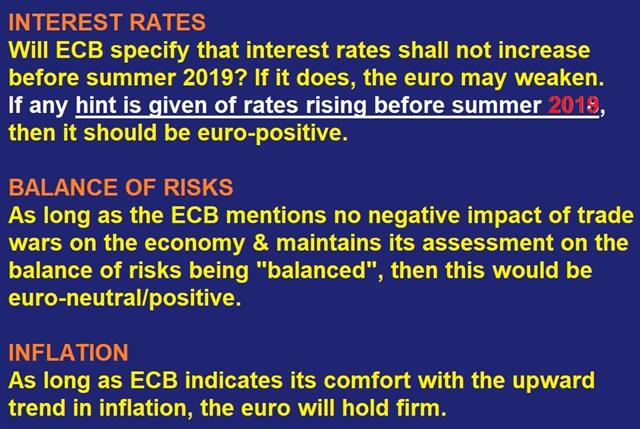 Looking ahead, the ECB decision is due at 1145 GMT (12:45 London), but it's a foregone conclusion that interest rates won't change. Instead, the focus will be on messaging in the statement and in the press conference 45 mins later. The euro might be higher if not for the looming risk of this meeting. Focus on any rewording of the calendar guidance.
Draghi is in a tough spot as he tries to retain an upbeat stance on the economy and keep a rate hike at this time next year on the table without driving the euro excessively higher. In the past he has been a masterful messenger, but the tweaking and messaging has gotten so precise that he finds himself in a near-impossible spot with a high risk of sending the wrong signal. If he can navigate the choppy waters, the underlying bias may be toward euro strength in the day ahead if Juncker's deal isn't picked apart.
Act
Exp
Prev
GMT
Eurozone ECB Press Conference
Jul 26 12:30
Latest IMTs