Intraday Market Thoughts
Trump Teases on Oil, CAD Key
A Trump tweet on Saturday set the stage for a wild trading week in the oil market. The new month gets underway after the US dollar and euro led the way in May, with the kiwi lagged. The latest CFTC positioning data showed Canadian dollar shorts increasing just as Poloz whipsawed the market. On Friday, a special charts note on USDJPY was issued for subscribers. The week starts with US manufacturing ISM and construction at 15:00 London time. US markets are shut on Wednesday due to Independence Day Holiday, but activity resumes fast and heavy on Thursday for services ISM, Fed minutes, ADP and jobless claims, followed by the US and Canada jobs report on Friday.
Click To Enlarge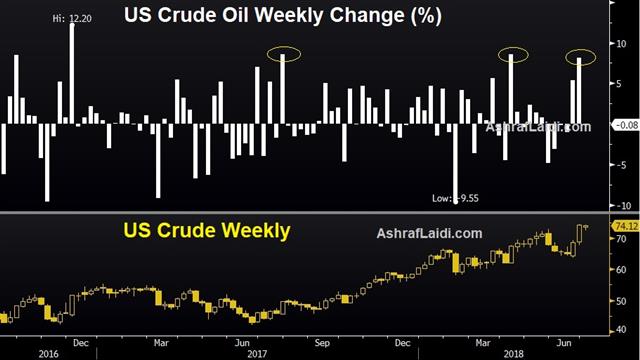 3rd Biggest Weekly Rally of the Year
Oil has been on a tremendous run, climbing more than 13% in the past six
trading days to reach the best levels in four years, but Donald Trump ensured the bulls weren't sleeping easy on the weekend. The President tweeted Saturday that he had called Saudi Arabian King Salman to ask him to pump more oil "maybe up to 2,000,000 barrels" and that he had agreed.
That kind of tweet would have created mayhem if it came during trading hours but with markets closed, it gave the Saudis and White House time to go into damage control. The White House said that King Salman affirmed 2 million barrels of spare capacity that it can use if necessary and Saudi statements made no mention of more production.
Ramping up to that level is possible in a number of months but it would severely strain – if not break – OPEC's alliance. However that may be a price Saudi Arabia is willing to pay to ensure its alliance with the US against Iran.
Oil opens the week above $74 (crude) and $78 (brent). Counteracting the Saudi headlines somewhat is the closure of four Libyan oil ports, removing 850K bpd of crude from the market. Dip buyers have been waiting on every small slide in the past week.
On Thursday, we wrote about the likelihood that the selling in cable was overdone. It responded with a 130 pip bounce into month end but the weekend was a reminder of the ever-present Brexit risks as pro- and anti-Brexit factions in her party ramp up the pressure ahead of key party weekends late this week. Other weekend news included the China manufacturing PMI at 51.5 compared to 51.6 expected and the non-manufacturing PMI at 55.0 compared to 54.8 expected.
CFTC Commitments of Traders
Speculative net futures trader positions as of the close on Tuesday. Net short denoted by - long by +.
EUR +34K vs +36K prior GBP -22K vs -19K prior JPY -34K vs -36K prior CAD -33K vs -14K prior CHF -38K vs -32K prior AUD -41K vs -43K prior NZD -18K vs -16K prior
Act
Exp
Prev
GMT
Final Manufacturing PMI [F]
54.6
54.6
Jul 02 13:45
ISM Manufacturing PMI
58.2
58.7
Jul 02 14:00
PMI
51.0
51.1
51.1
Jul 02 1:45
Eurozone Final PMI Manufacturing [F]
54.9
55.0
55.0
Jul 02 8:00
Latest IMTs