Intraday Market Thoughts
Two more Breaks
Gold and the euro showed renewed signs of life on Thursday. The Australian dollar was the top performer for the second day while the yen lagged. The Aussie will remain in focus with retail sales due later. Ashraf's Premium trades added a gold trade with 3 charts and 9 fundamental/technical reasons highlighting why the metal can finally break out instead of failing as it did over the last 3 years.
Click To Enlarge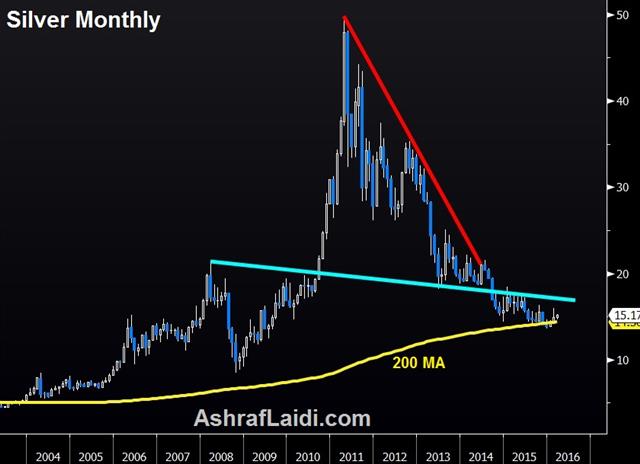 We wrote yesterday about the AUD/USD break of the 200-day moving average. Two things grab our attention today:
1) Gold breaks the wedge
A well-defined consolidation pattern has been unfolding since the Feb 11 high of $1263. In general those patterns break to the upside and that's what unfolded Thursday in a nearly $30 rally. The high of $1268 was also the best level in a year.
One cautionary sign is that a breakout a day ahead of non-farm payrolls isn't the most opportune time to get bullish. The measured target of the move is $1350 so patience will still pay.
2) Best day for euro in three weeks
The euro climbed nearly a full cent following a pair of doji stars. Earlier this week, EUR/USD tried to make new lows but couldn't sustain any momentum despite negative headlines and with the late January lows holding. A few retracements are underway including CAD, GBP and AUD; it might be time to add the euro to the list.
Looking ahead, the Australian dollar is in focus as it continues to push higher after breaking the 200-day moving average a day ago. The next event to watch is the 0030 GMT release of January retail sales report. The consensus estimate is +0.4% in what could be fresh confirmation that consumers are picking up the slack as the slump in mining continues.
Act
Exp
Prev
GMT
Retail Sales (JAN) (m/m)
0.4%
0.0%
Mar 04 0:30
Eurozone Retail Sales (m/m)
0.4%
0.1%
0.6%
Mar 03 10:00
Nonfarm Payrolls (FEB)
190K
151K
Mar 04 13:30
Latest IMTs