Intraday Market Thoughts
Two Tall Tales
The Fed and NAFTA negotiations have stolen headlines for the past two days. We listen to what the market is saying. The US dollar was the top performer while the pound lagged. The China Party Congress starts Wednesday. UK earnings rose 2.2% but well below inflation, while employment increased by less than expected. The pound extended its losses as prospects of a Brexit resolution between the UK and EU over the divorce bill remain dim.
فيديو المشتركين تداول داخل نطاق اليورو
Click To Enlarge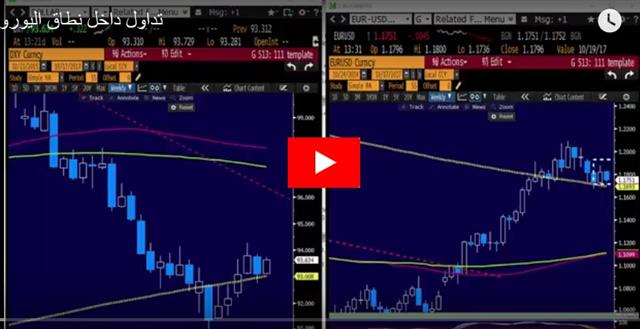 Speculating on the next Federal Reserve Chairman is a fun exercise but a dangerous trade. US dollar bulls got a boost on Monday about John Taylor but much of that faded later because the President gushing about a candidate is no reason to bet on rate hikes.
Four years ago, markets were playing the same schizophrenic game between Yellen and Larry Summers. At the time, it was assumed Yellen was the dove and he was the hawk. In hindsight, they might have been the opposite.
The lesson is that all the candidates are smart people and the Fed is a massive operation with thousands of employees who contribute to policy. It's doubtful the White House or any of the candidates have a genuine desire to partake in experiments when stability is the surefire way to economic progress.
The only surefire trade is to buy stocks if Yellen is reappointed.
Then there is NAFTA, which was billed as an involuntary Brexit for Canada and Mexico. Talks were extended past the year-end deadline Tuesday. That was taken as a positive sign that no one is yet-ready to walk away from the table, a sign that progress is possible.
The Mexican peso rebounded after weeks of declines but the scope of the move was still modest. The Canadian dollar hardly reacted.
If talks break down, then the trade will probably be to fade the kneejerk. The first reason for that is because there is uncertainty on whether the White House can unilaterally end NAFTA without Congressional approval – something that's unlikely. Second is that falling back on WTO rules wouldn't be a disaster for Mexico and Canada would fall back on the old FTA. In that case, the trade may be to sell all three against a broader basket.
Looking ahead, the China Party Congress has the potential to steal the agenda away from Fedtalk, Brexit-talk, Carney-talk and anything else. Expect a headline-heavy finish to the week.
Latest IMTs