Intraday Market Thoughts
US-China Talks Simply Can't Fail
Are we at the definitive moment of US China trade talks? Just as markets turbulence escalated in early Thursday, indices later pared their losses and yen came off its highs after words of relief from Trump (see below). USD dropped against non-commodity FX, signalling the subsequent stabilisation in risk appetite. US CPI and Canadian jobs are due next. Earlier today, UK Q1 GDP rose to 1.8% y/y from Q4's 1.4%. The Dow30 Premium short was stopped out, while USDJPY came in 10 pips short of hitting the 190-pip target.
Click To Enlarge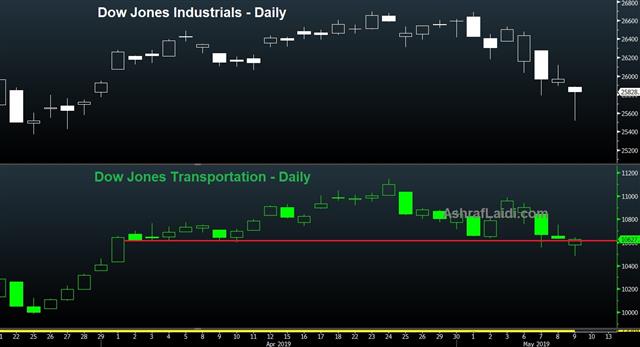 "Beautiful Letter"
USD/JPY hit a three-month low at 109.47 before regaining the 109.80s, while indices pared hald of their losses after
President Trump said Thursday he received a "beautiful letter" from Chinese President Jinping, asserting his readiness
to speak to him as the trade talks reach a critical point
The market continues to price in a low probability that talks fall apart. It's a guessing game but a deal is still probably 80% priced in so a negative outcome would be much worse than a deal. USD/JPY could fall another 5% to match the January low on a sour end to talks. Yet, once again, the intermarket levels that matter continue to hold (on a closing basis) without difficulty.
The Chinese yuan is another spot to watch as it falls to a four-month low. The FX regime ensures any move won't be quick. The theoretical maximum one day move is 2% but it's never challenged that. It would need to fall 2.2% to hit a multi-year low. If China allows that to happen, then it would further inflame tensions and spark a deeper risk-off move elsewhere.
Another axis to watch is via emerging market currencies. They're the most-sensitive to growth and capital flows. Turkey is bleeding currency reserves and the lira is at the lowest since October. The currencies of Argentina, India, Mexico and South Africa are also vulnerable. But the principal EM ETF (EEM) is holding above 41 base.
What's important to keep in mind is that even if talks 'fall apart' this week, they can easily be put back together. There is no appetite for a trade war from either side? Notably, the more members there are in a delegation, the more room there is for bad-cop, good-cop negotiations approach. Does Trump want that 18 months before his re-election? We think not.
Keep watching the levels mentioned in the last two IMTs with a look at how the Dow transportation index refuses to confirm declines in its industrials counterpart in the above chart.
Latest IMTs