Intraday Market Thoughts
USD Bears May Wait a Bit More
As much as we'd like to embark on the sell-USD bandwagon as early as possible, we think it is yet best to wait.
Studies showing USD weakness starting 3-4 months before Fed rate hikes sound astute and clever, but they're based on average movements
and serve as poor guides for swing traders. They
will not help you anticipate corrections or pullbacks in current USD weakness
. But as the charts below show, there are trends, countertrends and much signaling inside the noise.
Click To Enlarge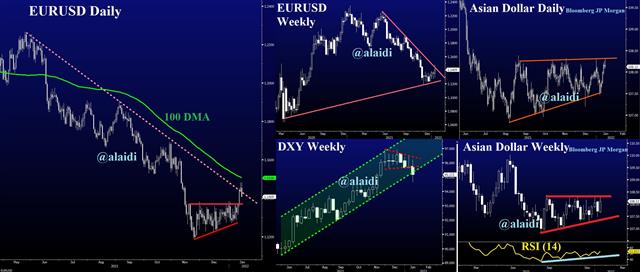 The
EURUSD
daily chart broke out of its wedge on Wednesday's CPI release, allowing us to signal the
WhatsApp Broadcast Group
to go long at 1.1390s and target 1.1455/60. Will the top of the wedge become support at 1.1380s? On the weekly timeframe,
EURUSD
remains above a less convincing trendline support from the March 2020 low, calling up 1.1200 support.
The not-so-soon warning on USD decline is backed by the weekly DXY chart near 94.90s.
Finally, the daily and weekly charts of the Asian Dollar Index (provided by Bloomberg-JPMorgan) indicate a robust ascent with an imminent break to the upside. The importance of the ADXY lies in its close correlation with gold, especially during those confusing phases when DXY and XAUUSD moved in tandem. For an explainer on ADXY and XAUUSD, watch from 25:10 mins of this video.
Latest IMTs