Intraday Market Thoughts
CAD Data & Senate Vote Next
Four days of gains leaves USD/CAD a handful of pips away from the July highs in a potential breakout with major economic data to come. Sterling was the top performer once again while the New Zealand dollar lagged. Crucial CAD figures are due at 8:30 ET, 13:30 London -- Canada Nov jobs report and Canada's Sep GDP figures. US manuf ISM folows 90 mins later. The Premium FTSE100 short was closed at 7290 for 210 pts.
Click To Enlarge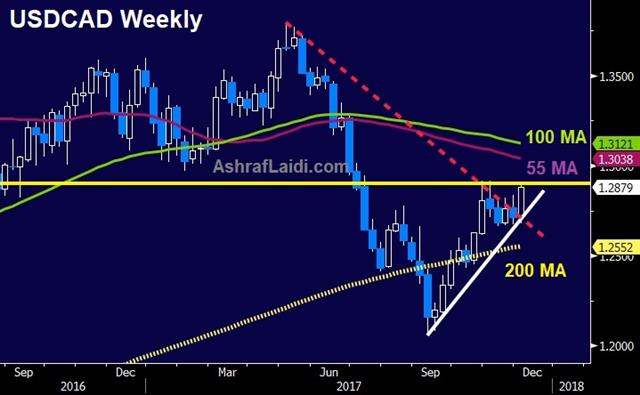 USD/CAD touched 1.2909 on Thursday, just below the October high of 1.2917. That will be a critical level to watch in the day ahead with Canada releasing the first look at Q3 GDP and November employment. A slight bit of good news for the GDP report on Thursday as the current account deficit for Q3 was about $0.65B below the $20B expected, despite being the third-worst report on record, in large part due to a CAD-driven drop in exports in Q3. The imbalance represented 36 straight quarters of current account deficits in a reminder of the long-term headwinds for Canada and the loonie.
In the US, the Senate hopes to pass the tax bill today as Republicans find difficulty in keeping the number of their Naysayers at no more than 2. The Fed's Mester and Kaplan both said they don't expect it to add to growth but offshore flows returning home could be USD-positive.
The dollar was volatile on the day, dropping early and then storming back as the 10-year Treasury yield climbed above 2.40%. The PCE report was a touch high on overall inflation but in-line on core. Personal income improved more than expected but spending was light.
In other news, OPEC extended production curbs through 2018. The nine-month extension was generally expected. Libya and Nigeria also agreed to cap production at 2017 maximums. The crude market was choppy on the headlines but finished flat on the day.
Looking ahead,
Act
Exp
Prev
GMT
Current Account
-19.3B
-20.0B
-15.6B
Nov 30 13:30
Latest IMTs