Intraday Market Thoughts
Fed's Higher Dots Spur USD
The Fed's 25-bp rate hike was no surprise, but the Fed's dot plot to forecast three rate hikes in 2017 caught bond and FX markets off guard, as these were expecting the dots to remain two hikes for next year. The US dollar soared across the board, with the DXY hitting fresh 13-year highs at 102.35 (before pulling back to 101.76), while EURUSD dropped towards 1.0520s, and now breaking below 1.0480s. Aussie jobs report due at 0:30 am GMT. USDJPY Premium trade was closed with 240 pips.
Click To Enlarge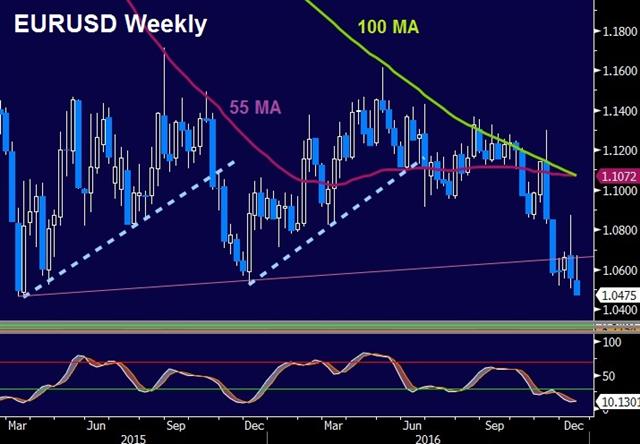 FX markets will monitor to what extent will Asian traders press on EURUSD and take out the 1.0450s seen in March 2015.
Considering that Trump's stimulative fiscal policy will is unlikely to be implemented before Q3 of next year, does it make sense for the Fed to expect two rate hikes in H1, before the fiscal trigger has been struck? Although the market expects just over two rate hikes in 2017, it is important that it is moving along the same direction that of the dotplot.
Of the questions that remain:
1. Will each of the Fed's 6 members calling for 3 hikes be a voter at next year's FOMC lineup? 2. Will the USD run ahead of the Fed's growth forecast, forcing them again to revise down their dots? 3. With the Fed's 2017 GDP forecast raised to 2.1% from 2.0%, does that match the optimism awaiting Trump's spending? Can inflation fill the gap and make the case for such tightening?
Latest IMTs