Intraday Market Thoughts
USD, Indices Firm in Light Day
A slow start to the week from a data vaccum and UK holiday did not stop from the US dollar from pushing higher. Friday's release of US non-farm payrolls threw a curveball at the market as a drop in unemployment overshadowed soft wage numbers, but traders ignored the decline in the labour participation rate. The week's key events are US CPI and BoE inflation report on Thursday, Canada jobs on Friday and more clarity on the Iran nuclear accord. President Trump's tweet that hey may shed more clarity on the US future role in the Iran nuclear deal on Tuesday afternoon.
Click To Enlarge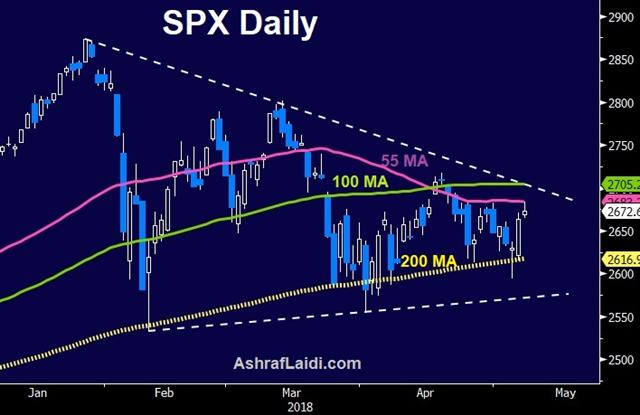 The US average hourly earnings component of non-farm payrolls has accounted for 90% of post-NFP market moves over the past year so it was no surprise when the knee-jerk in the US dollar was lower on Friday when the report showed wages climbing 0.1% compared to +0.2% expected.
From there, the tide slowly turned. Part of that was likely the underlying momentum that's made the US dollar the best G10 performer in three straight weeks. But part of it was also unemployment falling to 3.9% from 4.1%. A three-handle on unemployment is something that's going to make the Fed more confident that wages will rise, even if recent growth has been lackluster.
The US dollar hit cycle highs Friday, sending EUR/USD and cable to lows. Some profit taking hit late in the day but the underlying demand for the dollar has been impressive.
Things we will be watching this week include the Iran nuclear deal, the fallout from US-China trade meetings and more NAFTA talks.
CFTC Commitments of Traders
Speculative net futures trader positions as of the close on Tuesday. Net short denoted by - long by +.
EUR +121K vs +131K prior GBP +26K vs +37K prior JPY -1K vs +1K prior CAD -28K vs -28K prior CHF -19K vs -10K prior AUD -7K vs -3K prior NZD +17K vs +24K prior
US dollar shorts have covered somewhat in the past two weeks but there is no doubt it's been a painful trade with many now holding positions that are underwater. It will be a slow start to the week with the UK off for a holiday on Monday but the BOE decision Thursday will be a market mover.
Latest IMTs