Intraday Market Thoughts
Washington Whipsaw
Buying the dip on Trump-Russia news proved to be the right trade again Friday as a reporting error led to an oversized market reaction. The US dollar bounces strongly to kick off the new week, with the exception of against the GBP and CAD, which are holding firm. CFTC positioning data showed yen shorts easing up and GBP positions re-entering net long territory. The EURUSD short Premium trade was closed for 60-90 pip gain (depending on point of entry), leaving one EURUSD trade open.
Click To Enlarge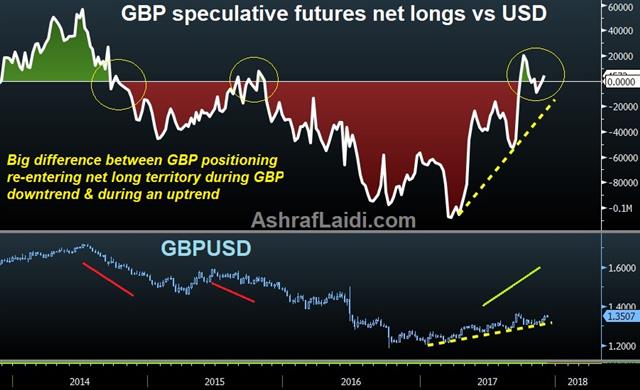 A half-dozen times this year, markets have been swept away by bombshells about the Trump government and Russian connections. On Friday, former national security advisor Mike Flynn pled guilty to lying to the FBI and promised to cooperate. That Flynn headline put a chill in markets but when ABC reported he would testify he was instructed to contact Russian officials before the election, then a full-scale flight to quality hit. USD/JPY dropped 130 pips to 111.40 and the S&P 500 fell more than 40 points. There were holes in the report from the start and markets slowly recovered. But it wasn't until the weekend that the news was retracted. The new report was that he was instructed to lobby Russian officials after the election and before the inauguration. That was still inappropriate and likely illegal but it's nowhere near stealing an election.
As a result, the US dollar opened stronger with USD/JPY rebounding 50 pips to 112.70, which is where it was before the Flynn news.
At the same time, the Senate voted on the tax bill on Saturday and that's likely to boost US stocks on Monday. At the same time, Flynn's cooperation will mean some fresh blame is laid and that the Russia story continues to roil markets – or at least provides a dip to buy.
CFTC Commitments of Traders
Speculative net futures trader positions as of the close on Tuesday. Net short denoted by - long by +.
EUR +90K vs +95K prior GBP +5K vs -1K prior JPY -110K vs -123K prior CHF -30K vs -30K prior CAD +46K vs +45K prior AUD +39K vs +40K prior
The shifts this week were relatively small but the crowded yen short remains a highly-vulnerable trade. Canadian dollar longs will be feeling better after the ultra-strong jobs report on Friday.
Latest IMTs