Intraday Market Thoughts
What Does the Fed See?
Wednesday's FOMC meeting comes with little fanfare and even less scope for action but it's a opportunity for Powell to lay out the evolution of the economy, and what's left in the playbook. CHF, EUR and GBP are the outperformers, while silver, kiwi and gold are the weakest of the day.
Watch what Powell will say about inflation, its targetting and the USD.
US consumer confident painted a troubling picture.
The Pre-Fed Premium English & Arabic Video for Premium susbcribers is found below
Also watch how Powell answers questions on the US dollar -- as Ashraf alluded to below.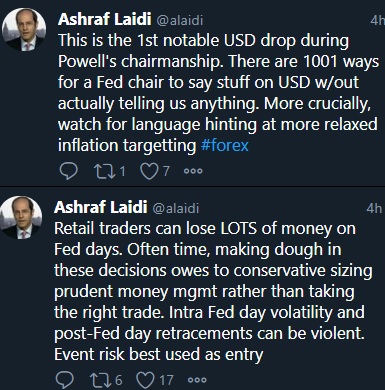 There are increasing signs of a retrenchment in the US economy. Another came Tuesday with consumer confident falling to 92.6 from 98.3. Economists were forecasting 95.0 but the miss was probably priced into markets after a similar miss in the University of Michigan. The drop in the 'expectations' component was particularly worrisome as it dipped to 91.5 from 106.1. It's one of the better leading indicators and is now only modestly above the pandemic low of 86.
The change in tone isn't an aberration. There are an increasing number of high-frequency indicators that show a flattening in activity, if not backtracking. In terms of that data, the Fed has access to some of the best numbers available.
The market is hungry for that kind of analysis and the risk is that the statement or Powell's comments indicate a souring of the outlook. If so, the market could recoil unless it's accompanied by strong reassurances the Fed is willing to do more. The danger is that vague hints of more action won't be enough for a market that's going to want more than forward guidance or yield curve control.
With all that, the Fed may end up deferring to Congress and the need for fiscal support.
Another main axis for the decision will be the response of precious metals. The recent run-up is in danger of a retracement if the Fed isn't explicit enough about plans to do more.
The decision is at 1800 GMT followed by Powell's press conference 30 minutes later.
Latest IMTs