Intraday Market Thoughts
What Happens if Central Banks Blink
Monday's market rout makes it highly likely that the PBOC will stimulate and the Fed will back away from rate hikes. But when the signals come, how will markets react? 4 of the remaining Premium trades hit their final targets over the last 24 hrs; - Friday's long EURUSD @ 1.1370 hits its final 1.1550 target today; - Aug 10th long USDCAD @ 1.2930 hit the final 1.3250 target today; - Aug 20th short USDJPY @ 123.40 hit the final 121.30 target on Sunday night; - Jul 8th short CADJPY @ 94.60 hit the final 91.20 target today.
Click To Enlarge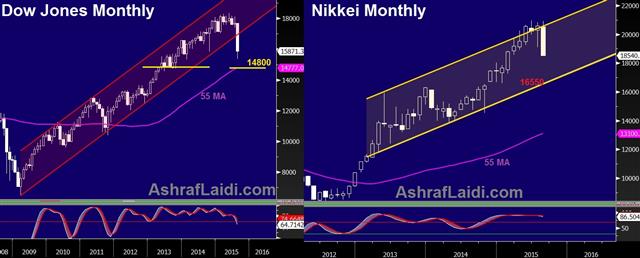 At this point, we probably don't need to recap the carnage in stocks, it has reached historical levels. Ashraf predicted an 1,830 target for the S&P 500 in last night's IMT, which was effectively hit at the futures right before the open of the cash. What stood out was how much more orderly the late-day selloff in US stocks was compared to the opening move. In particular, the FX and bond markets weren't rattled and that suggests that the iron grip of fear is loosening.
The Fed also gave a signal that it will remain looser for longer. Three weeks ago Fed voter Lockhart said he would vote for a rate hike unless there was a significant deterioration in data. He seemed to take a step back, noting that the yuan devaluation, US dollar and oil prices complicate the outlook.
Predicting what happens next in a panicky market is extremely tough. As we saw today, markets can overshoot reasonable targets in moments -- at one point the move in USD/JPY was the largest since 1998. What we do know is that central banks are no-doubt feeling pressure.
The Fed will almost-certainly wait while the PBOC could cut rates at any moment. Assuming the Fed offers a more definitive hint and the PBOC cuts within the next week, what next?
How markets react to those moves will be extremely telling. It should draw a line under stock markets and spark a slow recovery but if it doesn't, it says far more about sentiment and the global recovery than the past 4 days of trading.
Looking towards the next few hours, we will be carefully watching Chinese stocks for a sign of a bounce or stabilization. If so, expect that to extend around the globe. Along with that, we will be watching very closely for leaks and confirmation that the PBOC is preparing to act this weekend, or sooner.
Otherwise, the Asia-Pacific calendar is bare except for the Australian Conference Board leading index at 0000 GMT. The prior was +0.2%.
Act
Exp
Prev
GMT
CB Leading Index (JUN)
0.2%
Aug 25 0:00
Latest IMTs