Intraday Market Thoughts
What we Learned in August
1. The Fed likes uncertainty
When more variables are removed, markets function better. The easiest aid for a market in flux would have been for the Fed to signal no rush to hike rates. Instead, top policymakers are comfortable with higher market volatility and uncertainty. If that's what the Fed wants, that's what it will get in September. Don't expect a return to less volatility.
Click To Enlarge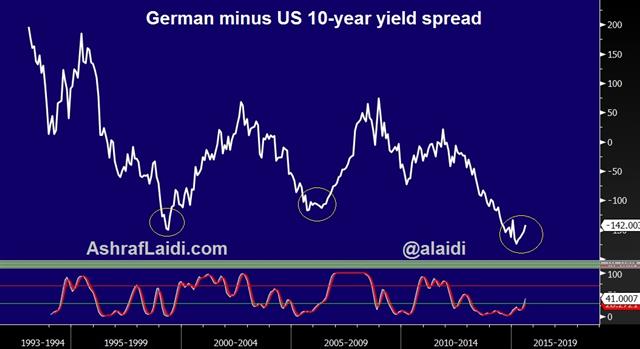 2. China's inexperience is showing
A modest FX devaluation and a rate cut is a logical, normal response for the challenges China faces. They failed, however, in the execution. The devaluation was poorly communicated and undermined confidence. The rate cut was rushed. Meanwhile, the hodge-podge of efforts to stimulate equity markets backfired. The stock market losses and growth can be regained but confidence in Chinese economic leadership will last much longer.
3. Central banks will wait and see
The RBA decision is at 0430 GMT but none of the 27 economists surveyed by Bloomberg is looking for a move on rates. It's a similar story in Japan where the BOJ is edging towards a rate cut but not committing yet. Market participants and central bankers are unsure what is happening with global growth and emerging markets. Ultimately, the divergence between the hawks (Fed & BOE) and doves (BOJ, EM, commodity bloc) will need to close.
4. Correlations aren't dependable
Oil is up 27% in the last week while USD/CAD is exactly where it was last Monday. The risk trade tends to lift the euro on a carry trade unwind but only to a certain point. USD/JPY has tracked risk sentiment but only to a point. When correlations break down it's a severe signal of uncertainty. Eventually they will re-establish but assets can disconnect for months.
5. Selected market performance
The yen led the way with a 2.2% rally against the dollar while the kiwi lagged, down 3.8% (including 1.9% on Monday). The S&P 500 fell 6.3% while the DAX fell 9.3% and Shanghai Composite fell 12.5%. The biggest surprise was crude oil, which finished up 2% on the month after falling as much as 20%.
Latest IMTs