Intraday Market Thoughts
Where to Hide
As I write this, Fed Chair Powell releases a statement, assuring the Fed will do what it takes to stave off the impact of the Corona virus. Market had a late-session bounce. Ashraf said yesterday he expected some sort of action before the weekend. Powell's stmt is enough of an action to send markets in the green. The endless drip of new worrisome cases led market participants to unload everything on Thursday in what's now one of the worst weeks ever in US equities. It's an understandable reaction to the extreme uncertainty from the coronavirus. Yet, almost all wealth needs to be held in some currency or some place; we look at the places that stand to benefit. As I write this, Ashraf has just released a trade that is backed by 3 charts & relevant notes, making the case why it's the only go-to trade into the weekend and the rest of the quarter.
كيفية التداول إثر تصاعد المخاوف
On Thursday, WHO leader Tedros said we're at the decisive point in containing coronavirus. The market has already decided it's much more likely to be a global pandemic. Let's assume it is. If so, it may be a global catastrophe unlike anything in generations. Let's set that aside for a moment and look at the financial/econ side and, specifically, where is the best place to preserve wealth.
First, consider how the pandemic will spread. Sooner or later, there will be another country with a coronavirus breakout. Right now authorities are scrambling in South Korea, Iran and Italy. The rising number of cases in several countries is ominous. Confirmed cases worldwide pass 83,000; deaths top 2,800. Banks are rushing to limit business travel.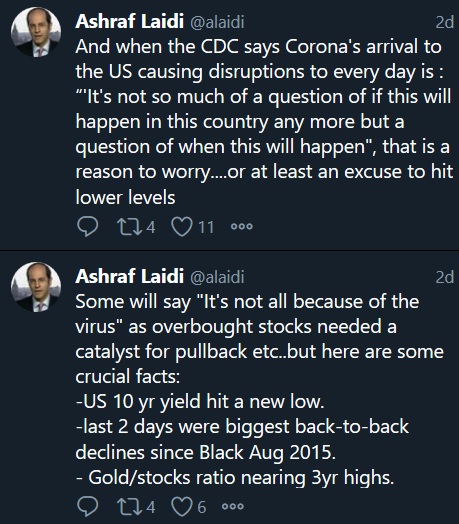 Given that it started in China, two of those three countries were not at all where you would have expected it to land next. Scarier is that Indonesia -- which is a top destination for Chinese travelers -- still has zero confirmed cases. US diplomats are increasingly critical of the testing and preparations in the country.
So what if the next big outbreak is in Indonesia? Or what if it's South Africa? Or Canada?
If that happens, expect the market to sell those currencies. Market reactions are imperfect and that's an understandable response. At the same time, there is a certain point where the market comes to realize that the virus is unstoppable. It could be 5 countries or 25. Given that the market is already leaning towards a pandemic, the number will probably be low.
Once the number of countries is "high enough", the trade will be less about the current locations of outbreaks and more about global growth, not where the individual breakouts are. Will growth-sensitive currencies such commodity FX and and EM be hit the hardest? Oil-sensitive currencies are particularly vulnerable.
Crude is down almost $20 from the January high and falling every day. What's the clearing price for crude when no one is driving or flying? There's no storage for 5 million extra barrels per day. The lows could be harrowing and we're already past the point where many oil producers can hedge in a profit. In the next week or two, expect curbs on investment spending, followed by dividend cuts and outright shutdowns. That will at least take some production offline, but if there is no demand, there's still no bottom.
One thing about Powell's assuring statement earlier before the Friday close: Markets will most likely descend on a fresh downward spiral to make sure the Fed delivers at least 25-bp cut on March 18th. If Corona virus cases spread further, markets may reach a point where anything less than 50-bps may not be acceptable.
Ultimately, it's ominous for the Canadian dollar. Expect the Bank of Canada to cut rates all the way to zero in a pandemic, similar to other central banks but the BOC is one of the few with a bit of rope so that will also erode any yield advantage and cut down the loonie. The way it's set up, there could be a series of cascading stops that take it through all the lows of last year and to the 2016 extremes.
In the early part of a pandemic, the traditional safe haven currencies will lead the way – the US dollar, yen and franc. They will likely be joined by the euro as carry trades unwind.
Part 2 of the market reaction: Who can cope
The next thing the market will look at is which countries can cope. This is where some of the commodity currencies could bottom out. Australia, New Zealand, Canada and Norway have relatively solid public finances, robust health care systems and political stability. Moreover, the burden of care is going to fall on the government. That could mean enormous costs but it's evenly spread.
Compare that to the mess of health insurance in the US. The costs are born by consumers and health insurers. The financial cost will cripple millions and bankrupt insurers. That creates some systemic risks. Moreover, a pandemic will destabilize and already-broken political system and probably assures a Bernie Sanders presidency and a Democratic sweep, perhaps even helped by his free health care plan?
As that comes into focus, do you still want to own US dollars? After an initial burst higher in the US dollar, it may not hold up. That would make for a classic blow-off top after a multi-year run.
Ultimately, there's no 'great' currency to own
That's what makes gold so attractive. The volatility makes for a tougher trade but there's
nothing technically stopping it from the crisis highs near $2000.
Central banks are going to cut to zero. There will be more QE. Deficits will explode. Politics will be more volatile. A pandemic may even take gold mines offline.
Unless there is a decisive turn for the better in the virus, gold will continue to rise. Do not confuse gold's recent decline resulting from defensive margin call funding, with inevitable proactive buying to hedge against tumbling risk assets. The shift can be instantaenous.
I just saw Ashraf's Premium trade released moments ago. He presents fairly accurate/exact arguments for taking the trade. Let's see.
Latest IMTs