Intraday Market Thoughts
Williams Confirms Neutral Pre Minutes
The US dollar fell across the board on a combination of Yuan-related comments (see below) from US officials and statements from influential NY Fed's John Williams tweaked the FOMC message on Tuesday in a hint that policymakers believe they are already at neutral. Today's FOMC Minutes should reveal more on the shift to neutral. A new USD trade has been issued on Tuesday night in line with the indication in Monday's Premium video. Currently, 8 of the 9 existing trades are in the green. The video also details why we confirmed our EURUSD long on Friday when the pair was at 3 month lows.
Click To Enlarge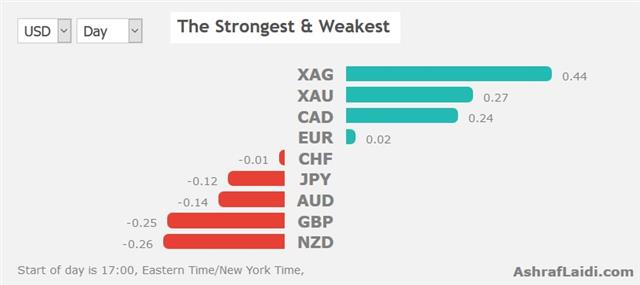 Williams on Tuesday said rates are already at neutral. That's a slight shift from earlier communication. It's a further sign that policymakers will be in no rush to hike and that the next move could be lower. Importantly, policymakers are increasingly pointing to risks abroad as a justification to wait. That means that even months of positive US economic data may not be enough to put the Fed back on a hiking path.
The dollar sagged throughout the day and risk assets rallied along with gold hitting a 10-month high. The pound was the top performer on hopes for some kind of progress on Brexit ahead of May's meeting with EU officials tomorrow. There was also talk that the Malthouse compromise is alive once again.
In trade talks, the US was said to press for a stable yuan. That's a tough thing to ask for because the Chinese currency continues to strengthen and is anything but unstable. At most this should probably be seen as a pledge to halt any quick yuan declines under any circumstances. Still, it's a boost to broader emerging market currencies and an idea that China can work with.
Looking ahead, the pound will remain in focus after the rise above the 200-day moving average on Tuesday. A poor outcome from May's meeting could send it right back below 1.2900. Meanwhile, the Fed Minutes risk sending conflicting signals on positive domestic signs contrasted with worries about growth abroad.
Act
Exp
Prev
GMT
FOMC Meeting Minutes
Feb 20 19:00
Latest IMTs