Intraday Market Thoughts
Yellen Doesn't Pre-Commit, More Vol to Come
A crowded US dollar trade was pushed to the exits Wednesday when the Fed failed to offer any fresh hints about more rate hikes. The dollar dropped at least 100 pips across the board. New Zealand GDP and Australian jobs will keep the volatility going in the hours ahead.
The Premium trades posted a new USD trade backed by 3 charts & 6 fundamental & technical reasons, while closing the EURUSD long at a 145-pip gain.
Click To Enlarge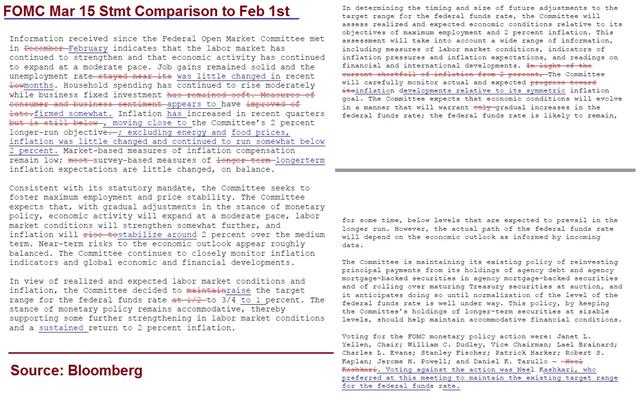 Expectations for the Fed grew to downright frothy levels in the past two weeks. What had been a low probability of a hike turned into a certainty and talk of four hikes this year was suddenly in vogue. As we warned yesterday, that it's not in Yellen's nature to pre-commit. With this hike she waited until the day of the Fed blackout to tip her hand and it won't surprise us if that's a theme this year.
The statement was slightly more constructive and she was more upbeat on the economy in the press conference but it's clear that the FOMC wants to see a steady stream of good data. A June hike is now priced at roughly 50/50.
Technically, the big moves against the dollar highlighted how much of a struggle it's been. It wasn't able to get much traction despite the shift to price in hikes and now those moves have evaporated.
The euro climbed to the highest since February 6 on the Fed news but also on the Dutch election results. According to exit polls, Wilders finished in a three-way tie for second with 19 seats. That was shy of the 22 seats that were anticipated and well behind the Liberal Party with 31 seats. We're cognizant that exit polls were wrong in the US vote and Brexit vote but if confirmed, it may be a sign that populism is waning in Europe.
Up next, we look to New Zealand GDP numbers at 2145 GMT and Australian jobs at 0030 GMT. Both currencies made big gains against the US dollar Wednesday and positive data could send them much higher still.
After that we will look to the central bank decisions from the SNB, BOE and BOJ as the volatility continues.
Latest IMTs