Intraday Market Thoughts
Yen Back on The Defensive
Weeks of yen consolidation appear to be ending as EUR/JPY and CAD/JPY breakout to the upside on positive sentiment. The Canadian dollar is the top performer today as it was on Thursday, while XAG, EUR and NZD are lagging. The
US PCE report
is due up next, with core PCE (Fed's favourite inflation gauge) expected at 1.8% from the prev 1.4%, with chatter that it may miss. Today is the last day of the month, which means portfolio rebalancing and some FX volatility around the European close.
A new Premium trade was issued yesterday evening in a non-USD cross. How about the Mystery Chart below? Care to guess?
Click To Enlarge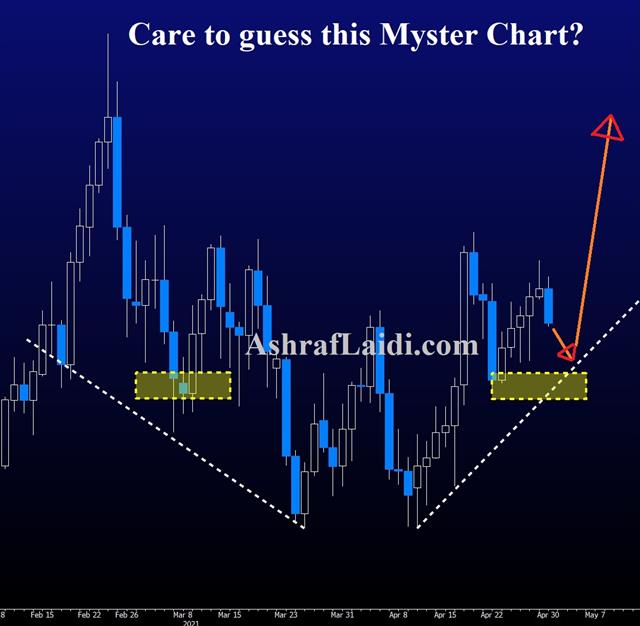 Two weeks ago, it looked like a deeper correction in yen crosses was coming as several broke the March lows but there has been a quick turnaround in improving risk sentiment.
On Thursday, EUR/JPY and CAD/JPY both hit a two-and-a-half year highs following four days of strong gains. NZD/JPY and AUD/JPY are also within striking distance of new highs as risk trades continue to improve.
Another factor is the rise in sovereign yields with US 10s touching 1.68% on Thursday. Some of that might be month-end flows (which will continue to be a factor on Friday) but yields are likely to be finished their retracement phase and that could stoke a further leg in the yen trade.
The other driver will be inflation and the eventual tapers from major central banks, especially if the BOJ doesn't join in.
The heavy newsflow this week has taken the focus of inflation for a moment but that won't last with the PCE report due on Friday. Headline inflation is expected up 2.3% y/y with core to rise 1.8%. Powell already dismissed a 'transient' rise in inflation this year and said it won't meet the criteria for meeting and moderately exceeding the target. That could limit the market reaction, but perhaps not the hand-wringing. Another spot to watch is the personal spending portion. Q1 GDP highlighted a strong consumer and we're likely to see more of that here, but even if the number is week, economists will simply shift expectations to April.
Latest IMTs