Intraday Market Thoughts
2023 Outlook Binge & Sector Dive
Now that you've all binged on those "2023 investment outlooks" from banks and research houses, telling you 2023 will see a "recession", "but a mild one" because of "labour market resilience", while "inflation will slow but not below 4%", what will youdo? If all (or most) of these forecasts materialize, then inflation-protection and recession-resistance sectors combined with dividends are the way to go. This does
not mean all technology shares are out
. You
cannot group
Microsoft with Facebook, or Tesla with Netflix. 2022 was clearly the worst year for equity indices since 2008 according to most benchmarks (SPX500, DOW30 and Nasdaq100). But it's increasingly crucial to
focus on sector performance
and appreciate the way energy and metals have outperformed since the start of 2021 and even 2022. The larger (central) chart focuses on sector performance since Jan 3rd 2021, with healthcare, financials, utilities and consumer staples joining metals and energy in double digit returns. The more challenging period is that of 2022 (smaller chart on the left), where energy and metals were the sole outperformers, up 47% and 8% respectively.
Click To Enlarge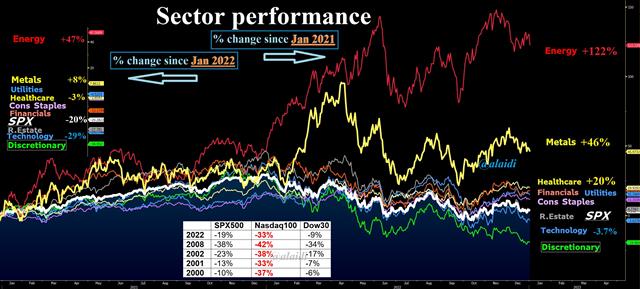 Members of our WhatsApp Broadcast Group (WBG) were guided through a difficult 2022 with some awful calls such as being bullish EURUSD at $1.07 in May, or long gold at 1800 in August.
But the real challenge is how to get back up when you're confidence is down?
Telling the WBG (as well as Dubai gold dealers on October 18-19th) that gold will NOT break below $1580 at a time when it had slumped to $1615 is where the value comes.
Reiterating to Group members that EURUSD will recover (and not revisit 0.99) because of unique technical developments in the EUR trade weighted index is where the originality of analysis and urgency of trading calls come through.
Using tools such as the
10-yr/3mth yield spread
in
this video
as
harbingers of USD top was also helpful
-- especially amid escalating calls for 120 DXY by many and most. Selecting the right stocks in the right time will be added to our WBG offering for the year.
Latest IMTs