Intraday Market Thoughts
After the Nikkei's 20K Failure
Plenty of noise was made about the great comeback of stocks: How Japan's Nikkei-225 rocketed 28% in the last 6 months of 2016, erasing a 25% decline of Q1 2016, largely thanks to a 15% jump in November alone, courtesy of the "Trump-reflation-Fed-raises-rates-US-pumps-infrastructure-yields-soar-yen dives trade". The trade worked wonders for the BoJ who had run out of tricks and out of bonds to buy to weaken the yen.
Click To Enlarge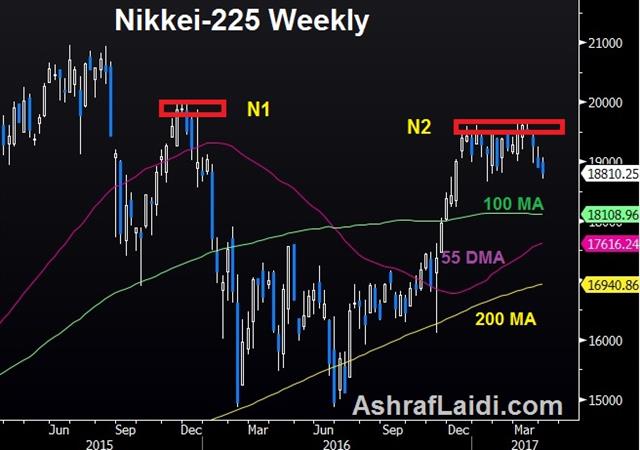 But Japanese traders cared little for round numbers as the 20,000 level was attempted and failed for the last four months (N2). Interestingly, the 20,000 also failed in Nov and Dec 2015 when global indices recovered from the August 2015 China sell-off, but again failed (N1). As markets recovered in spring 2016 with the help of oil stabilisation, Nikkei bulls were propelled by the perfect storm: falling yen, rising yields and recovering USD. But it was still not not enough. Both the Nikkei and Topix are at 4-month lows as yen pain escalates.
Does the above Nikkei chart suggest a double top, or a partial pullback retesting the 100-WMA of 18108? Will 18780 suffice? There is no Fed meeting this month and Trump will be busy talking trade with China, before going to lawmakers to try out a few executive orders favouring US manufacturing. Nikkei bulls will be encouraged by 10-year yield's recurring stabilisation above 2.30%
Our short USDJPY trade opened near 112 on Friday remains in progress alongside 7 other trades. The 2 opposing CAD trade remains a synthetic hedge for an outright USD short. A new video for the Premium subscribers has been sent and be watched here.
Latest IMTs